I hosted a macaron class at my home this past year. It was part of a cooking club I was a member of  which was so fun (I am still lamenting the fact I missed the raclette cheese month). The girl that was in charge of the cooking club must have noticed that I had been bringing macarons to everything. School events, church events and even my neighbors all got macarons because I love them and wanted to get really good at them. Also most people don't bring macarons to events so I liked having dessert that was an anomaly.
Although I do have a friend who doesn't care for them and says they taste like pure sugar. I thought that's exactly why I like them. Here's where I also come out to say that if you give me a choice between a chocolate dessert and a fruit based one I'll pick the fruit one over the chocolate one.
Anyways, I hosted a macaron class at my home and it was a success. It was great that everyone who came got hands on practice making the macarons. We made my two favorites raspberry buttercream and a lemon curd.  I checked out a bunch of books from the library that had macaron recipes in them. It was nice to thumb through those and see how creative people can get with flavor combinations (caviar macarons?). I think it really helps when you can see how to macaronage or fold the batter together.
Bouchon Bakery
This recipe is from the Bouchon Bakery Cookbook. Thomas Keller uses the Italian method of making the meringue. I was puzzled by some of the amounts listed for their ingredients but he said he decreased the amounts for a home kitchen rather than commercial. I loved how Thomas Keller talked about having a clean kitchen to start with. It's a complicated cookie so a clean kitchen helps me organize myself so I can prepare these macarons.
A few notes on ingredients and equipment. This is easiest done with a kitchen scale. I've attempted macaron recipes without a scale and the results are not consistent. This is a finicky cookie. The humidity(I've made these in multiple states), over temperatures, how you mix the ingredients basically everything can affect your cookie. I use to trace circles on parchment paper using small jar lids or anything I could find around the house to make my templates. Then a friend showed me you could just print some templates out and place them underneath the parchment paper and put them in the oven. I love macarons and make them frequently enough that I justified purchasing these silicone baking mats. The mats can be used for other baking recipes as well. About 30 grams of egg whites is equal to one large egg white.
Raspberry Macarons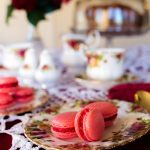 Yields: Approximately 30-40 macarons.
106 grams Almond Flour
106 grams Powdered Sugar
45 grams Egg Whites
45 grams Egg Whites
118 grams sugar
79 grams water
¼-½ tsp red gel food coloring
Raspberry Buttercream Icing
Preheat the over to 350°

Sift together the almond flour and powdered sugar.

Add the 41 grams of egg white to the almond flour/powdered sugar mixture. Stir until combined and set aside.

Combine the 118 grams of sugar with the 79 grams of water in a small pot on high. Place a candy thermometer in the syrup.

While the syrup (sugar water) is heating up you will want to take the remaining 45 grams of egg whites and whip until soft peaks form. This is easiest to do in stand alone mixer but I've been using a hand mixer. Keep the egg whites moving as best you can while you attend to the syrup.

Once the syrup reaches 248°F/ 120°C (or soft ball stage) immediately remove from heat. Pour this mixture into the egg whites while using your hand beater. This is where it would be nice to have a stand alone mixer!

Whip the egg whites and syrup together until there are stiff, glossy peaks. At this point add the gel food coloring until desired colored reached. Gel is better to use rather than a liquid because the liquid adds to much water and changes the consistency of the meringue.

Slowly add the meringue to the almond flour mixture. Taking a spatula mix around the perimeter of the bowl and come to the center each time. This type of mixing is called macaronage. Try to make a figure 8 using your spatula. Once you are able to make about two figure 8's without the batter breaking you have properly combined the mixture.

Fill as pastry bag with the batter. (I use a disposable one)

Get a silicon baking sheet with a macaron template on it or (trace circles on parchment paper).

Holding the pastry bag upright squeeze the batter into the center of the macaron circle. Don't move your hand. The batter will automatically fill the circle. Stop squeezing until just before you reach the perimeter of the circle. If the mixture has been mixed properly the top of the macaron will be smooth (if a peak occurs it means the mixture should probably be mixed more). If it spreads too much it means that it was overmixed.

Allow the sheets to rest for about 30 minutes. A thin skin should form over the macarons. Once this skin has formed you know they are ready to go in the oven.

Place in preheated oven and immediately decrease the temperature to 325°. Bake for 9-11 minutes.

Allow the macarons to cool completely before taking them off the baking sheet. If they have been baked long enough they should come off the baking sheet without sticking to the pan.

Using a separate pastry bag or a knife put raspberry buttercream icing in between two shells.
This recipe is adapted from the Bouchon Bakery Cookbook. I had the most consistent results getting "feet" for my macarons when I let them rest for 30 minutes before placing in the oven.