Our second trip to Key West was amazing. I feel so lucky to have been to Key West once let alone twice. We did some old favorites but mostly all new things. Actually, Matt and I talked about what we want to do on our next trip down to the Keys. There are just so many things to do in Southern Florida that we need another trip. My mother-in-law was kind enough to drive down with the kids and I earlier in the day. My father-in-law drove with Matt after he got home from work. Miami traffic is a bear. Our journey started at 9:45am and we got to Homestead at 9pm that night.
The first day, we had several stops for bathroom/food, plus there was traffic and then there was a "gas shortage" or more like panic buying (so that took time to find gas). We stopped in this delightful Cafe called Ossorios in Coco for lunch. The surrounding shops and walkways were so happy and bright. We spent the night in Homestead at a Hampton Inn and had dinner right by the hotel at Outback Steakhouse. The next morning we went to Key Biscayne National Park.
Islamorada
The next day we drove to Robbie's to feed the Tarpon's. The experience wasn't as magical as last time. There were about ten aggressive pelicans that also wanted the fish. A mom that was leaving said, "hold onto your kids one of the pelican's bit my son's finger." The pelican's weren't invincible but definitely persistent. There were nets over some of the area's to feed the Tarpon's so the pelican's couldn't steal food from them. Because of the nets the tarpon's were not able to leap out of the water like before. I think we will go again but the pelican's were really quite aggressive.
Trip to Key West
At last we arrived in Key West and got lunch by the water at Seaside Cafe at the Mansion. Someone had fun and right by the mansion there is a sign by an alley that says "Diagon Alley." My kids are into Harry Potter right now (as am I) and we had a good laugh going back and forth through Diagon Alley. One thing that stood out to me was how many chickens, chicks and roosters that were roaming the streets of Key West. The kids loved spotting them all around the island.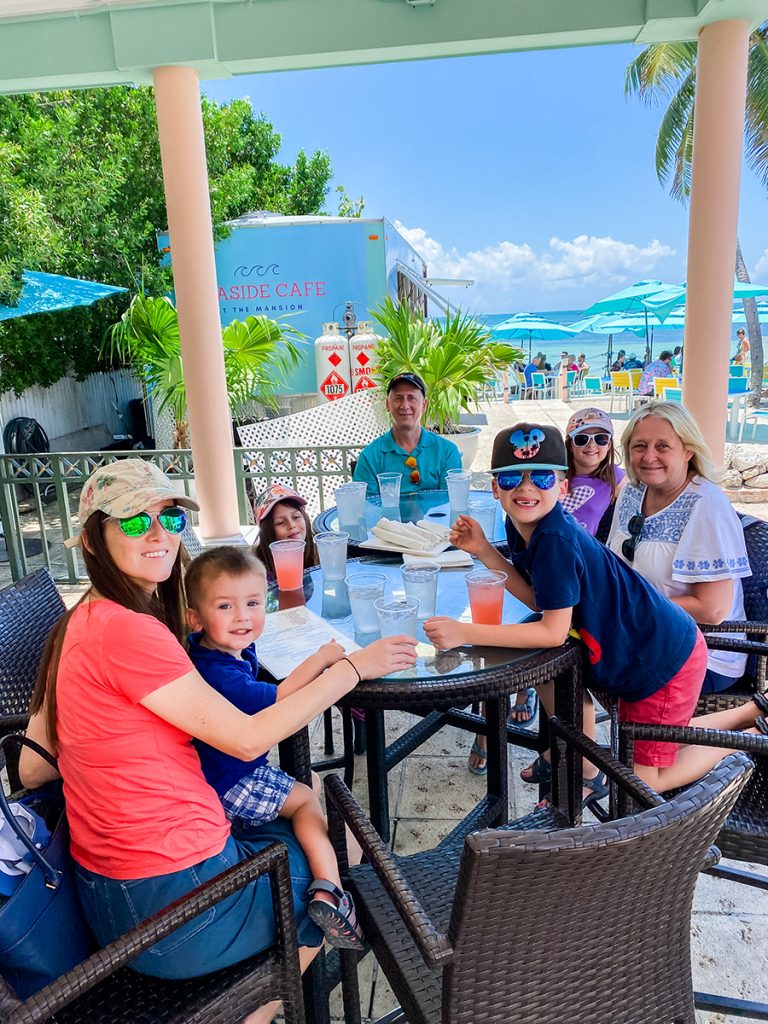 Then we took the obligatory photo by the southern most point. Then we walked to get Key Lime Pie at the Key Lime Pie Co. The bakers at the Key Lime store were so nice. My kids were entranced with watching them make chocolate covered Key Lime Pie popsicle and they just gave them some. We ordered more pie and just gorged ourselves. We walked over to the Butterfly Conservatory. Last time one of the butterflies landed on one of my kids this time it landed on me. We checked into the Fairfield Inn and prepared for our early morning to Dry Tortugas National Park.
Since we had eaten so much for lunch and dessert we got smoothie bowls from Grain and Berry. We wanted something light and cold and It hit the spot and it was my first time trying spirulina. I have been wanting to buy spirulina because it naturally colors things blue. It was mixed it with a lot of other things but I could taste a bit of a subtle flavor.
After we got back to Dry Tortugas we started our drive back up the coast. The next time we take a trip to Key West we want to go to the turtle hospital and do some snorkeling in some of the other Keys.