We had one day at Crater Lake National Park. We were actually here on the fourth of July so it felt like a patriotic thing to be doing- going to a National Park. By the time we booked our trip the lodging closer to the park was full so we ended up staying in Eugene, Oregon. We made the most of that because were able to get Voodoo donuts in town. We wanted to sample a lot flavors so we got 14 donuts even though there are only six of us. A thing we have learned is that lodging by the national parks generally books really early. There are also not a lot of chains by National Parks that are more remote in location.
Stop On the Way to Crater Lake
On the way to Crater Lake we filled up gas and actually we didn't fill it a gas attendant filled it for us. I guess in Oregon there are gas attendants at all the gas stations. It was a little strange but they were all nice and gave us some additional sightseeing tips. One of which was to see Salt Creek Falls. This waterfall was easy to get to, not a lot of people were there and huge (it's the second highest water fall in Oregon). We made the pit stop and then carried on to Crater Lake.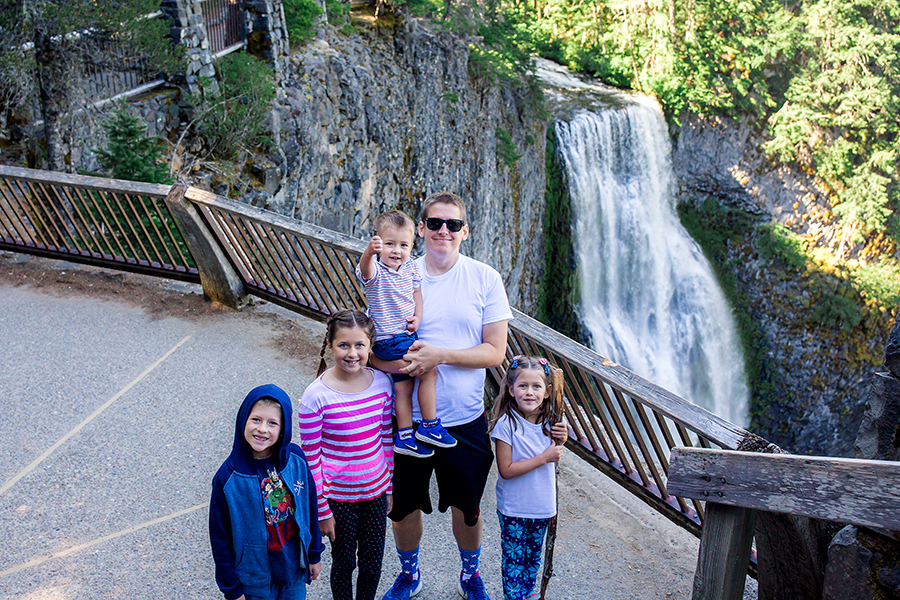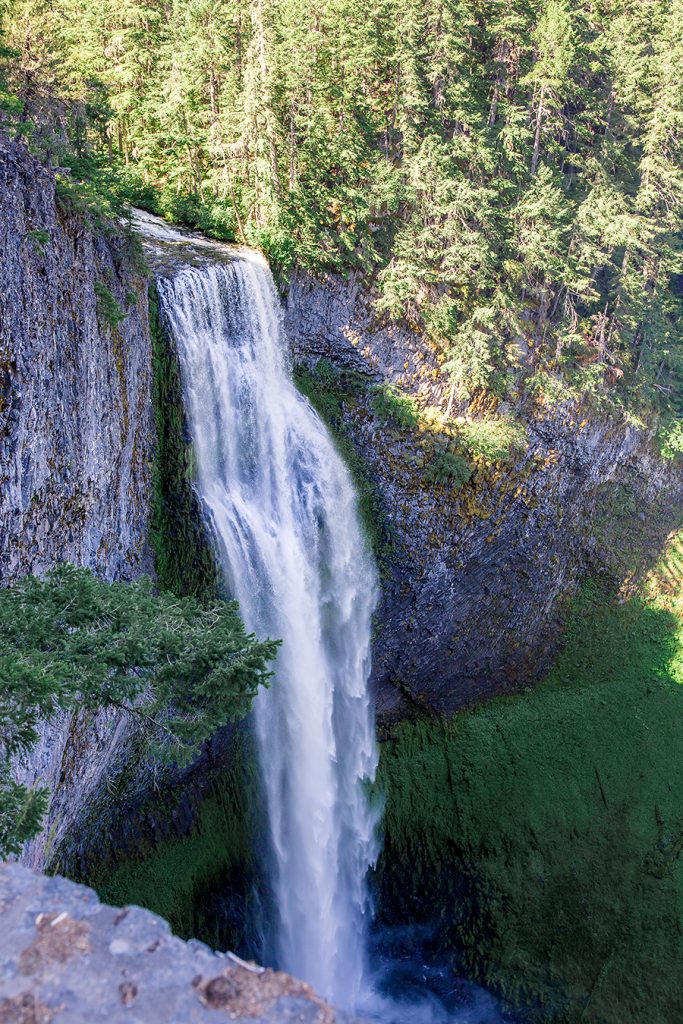 Hike in Crater Lake
Driving around the lake and stopping just to do the lookouts takes a while so we only had to time to do one hike. I'm so happy we chose the hike where you can touch the water. We did the Cleetwood Cove Trail. It was steep (mostly switchbacks) and hot but the kids had so much fun playing in the water. The Lake is the bluest lake I have ever seen like a sapphire. It was dry so as you walked you kick up dirt on yourself. Matt and I trade off carry either the backpack or the toddler. We had the kids rotate carrying another food and water backpack.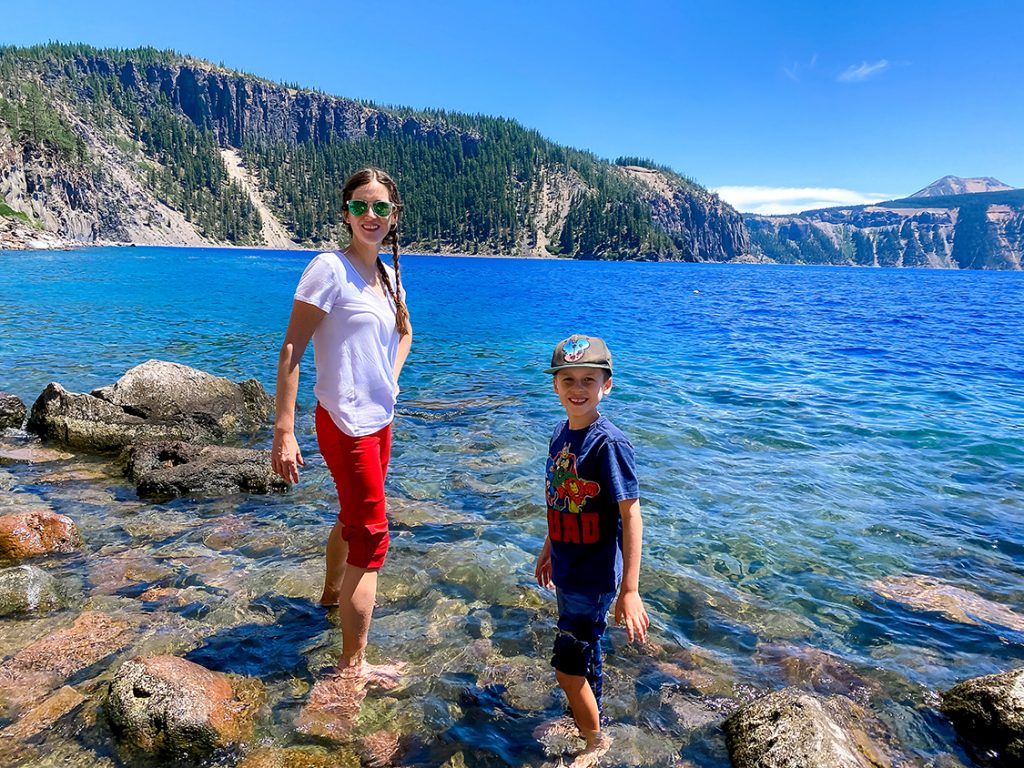 People are allowed to swim in the lake. We debated whether or not to bring swimsuits/or hike in our swim suits we elected not to. We did allow the kids to wade in the water. The water is pretty cold (57 degrees at the surface). It felt refreshing after a hot hike. We did see other people taking some quick dips. Others jumped off cliffs into the water (as seen below). There were lots of rocks to climb and sticks to find so the kids had a great time hiking.

Because of Covid the boat to Wizard Island was not in operation. This was ok because we only had one day at Crater Lake.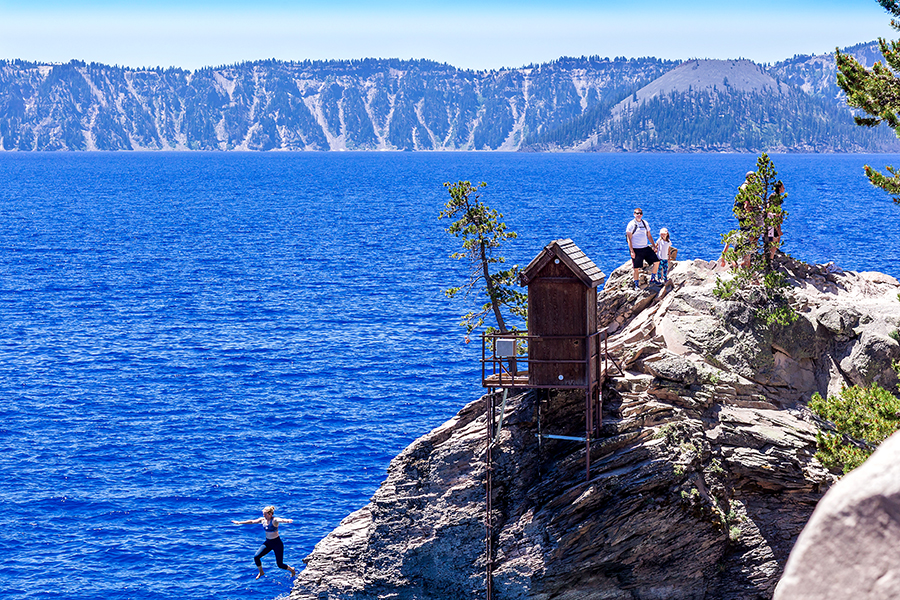 Crater Lake is so unique because there are no rivers flowing into the lake its filled because of snow and rain. The kids play Civilizations and Crater Lake is part of the game so they could relate. We did several other pulls outs to take photos including Watchman Overlook to get a better look at Wizard Island.
Have you been to Crater Lake National Park? What did you do there?