After a late night going through the Oregon Coast we continued on to visit Olympic National Park. Oh my goodness there were so many things to see at ONP (Olympic National Park). We prepared for the trip by watching America's National Parks episode 1 "Olympic" on Disney Plus. It's where we learned that Olympic National Park has three main areas, the beaches, the mountains and the rainforest. I already knew that Edward and Emmett Cullen hunted bear and mountain lion in ONP. Based on this information we wanted to make sure we visited all three areas (oh and Forks!).
How Long Did You Visit Olympic National Park For?
It took us two days to just skim the surface of ONP. There is a lot of driving to do. We got to the park early because we had heard there would be long lines at the National Parks this summer. While we made it early to the beach area of Olympic National Park and avoided some of the crowds and parking issues. When it was time to visit the rainforest area we were stuck in a long line (2 hours!). We didn't want to leave the line because then we wouldn't get to see the area at all. We had to exit the park from the beaches area and then re-enter the park. So, I guess if you just stay in one area and get their early you won't have to deal with lines.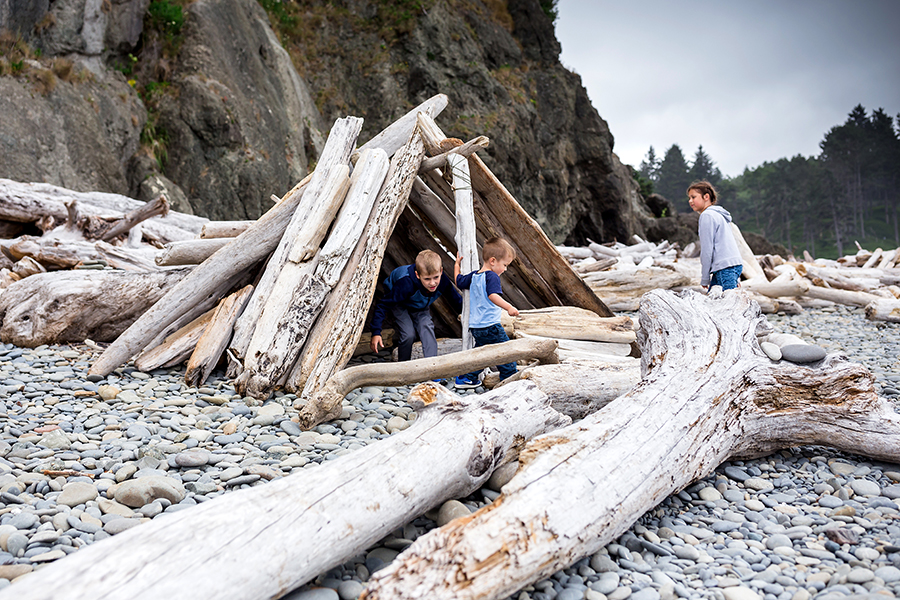 Where Did We Go in the Beaches Area?
As we were driving into the coastal area we could see the clouds hugging the coastline. It was sunny just east of the coast and then overcast/cold/ windy on the coast. It was so peculiar how distinct the clouds were just on the coast. We were coming from the south so we stopped to see the Tree of Life first at Kalaloch Beach.
This is where we made a mistake. I learned about this after we came home. But apparently the BEST Tide Pools are at Beach #4. I think we thought we were there because we were at Kalaloch Beach-–but we specifically needed to go to Beach #4 parking lot. So, if you go– go to Beach #4 at low tide so you can see the sealife. The tree was a fun quick stop about 45 minutes. All of the beaches you need to be aware of the tide schedule before you go on them.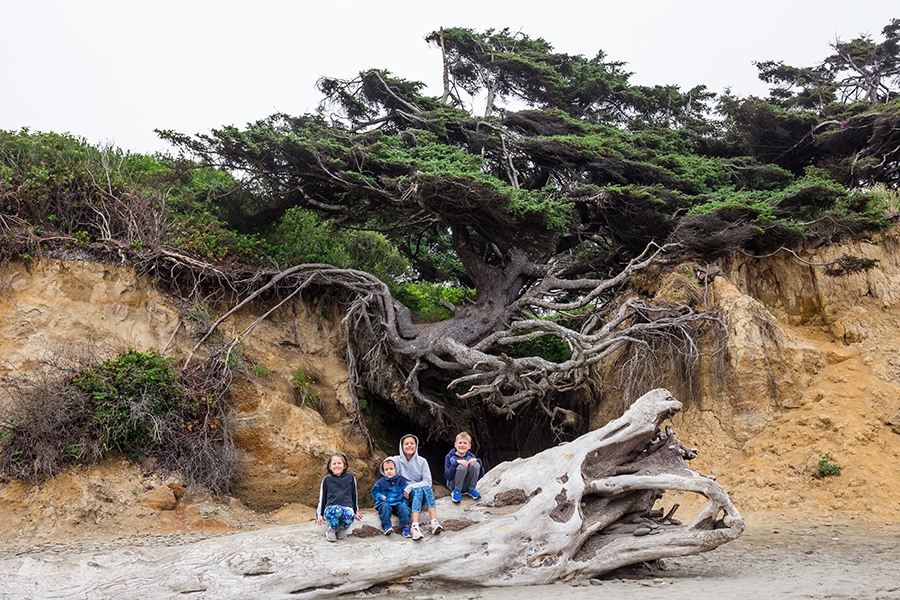 Next up we went to Ruby Beach. This was magical and a must stop. The size of the driftwood on the beach was so big, the tide pools were great, and it was so so pretty. Despite the overcast clouds, we were happy to have the authentic Washington experience. We spent longer than we initially were planning on but we had no regrets it was a great place to explore. As we walked down the path to the beach we discovered wild salmon berries. We had never seen or eaten these before. Have you tried these before? What's the most unique berry you have eaten? There were two ways to get to the beach one was a dirt path and the other people had to climb over a bunch of tree trunks. Can you guess which we did?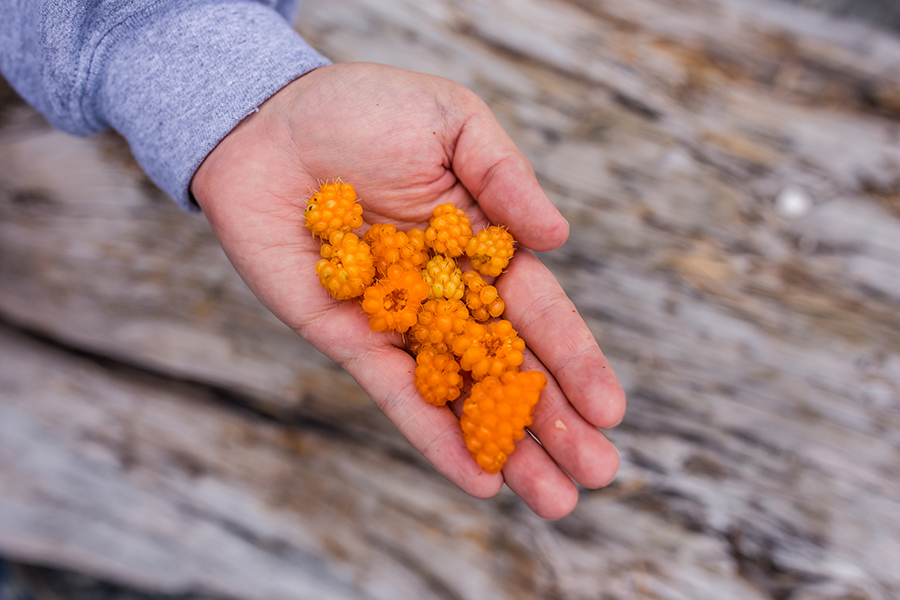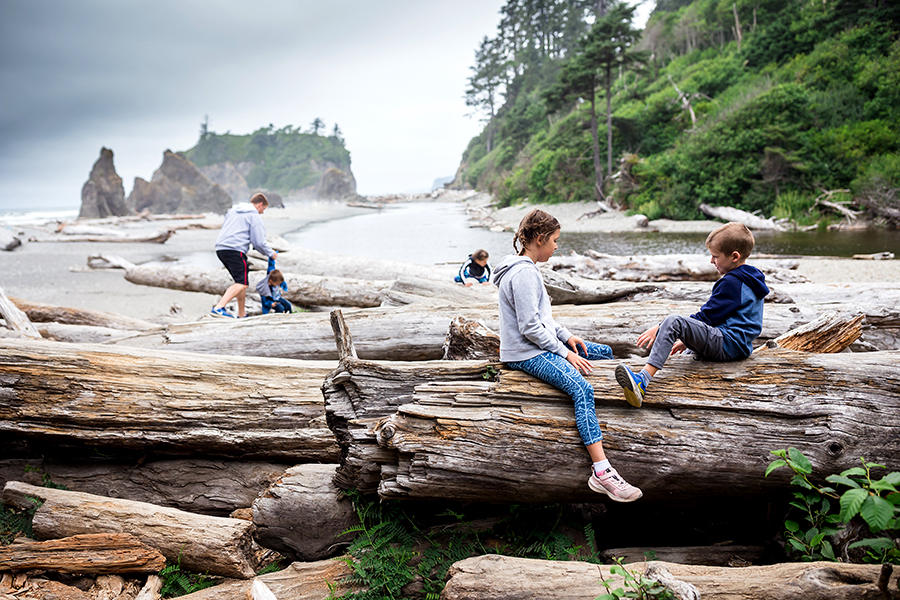 The last beach we went to was Rialto Beach. We went here in the evening after the rain forest. Again the contrast between the sun and lack there of on the beaches was stark. We didn't have time to do the hike to the hole-in- the wall but we would have liked to. A friend posted they were camping at Olympic National Park for a week. There was easily enough to do (with a big variety) to be here a week. We though Rialto Beach had some similarities to Ruby Beach. If I could only pick one (because of time) I would say Ruby Beach.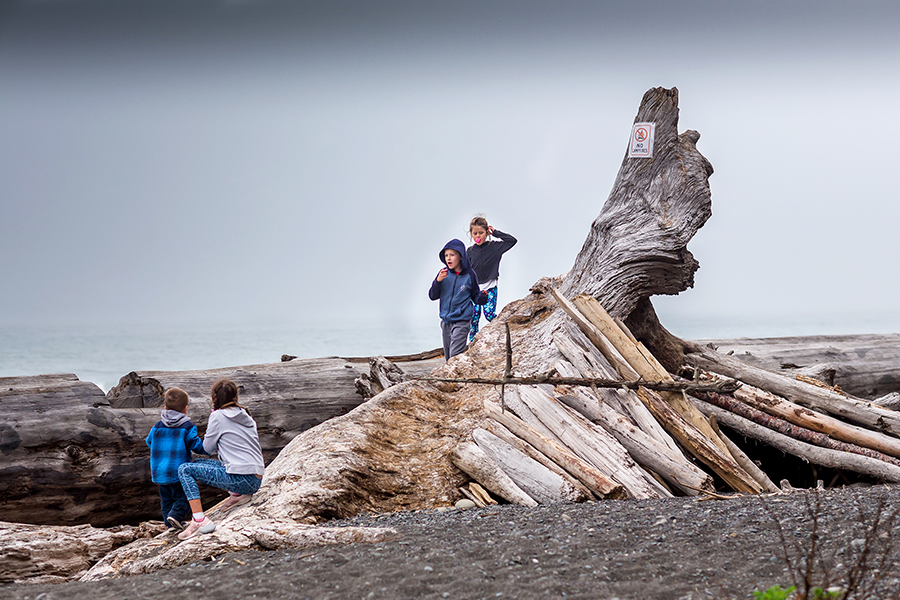 What Did We Do In the Rain Forest Area?
As I mentioned above we had to wait a long time to get into the rainforest area of the park. Which did cut down on our hiking time but we still got in a little hike. We picked up the kids junior ranger books to work on and then we did the Hall of Mosses trail. It's a quick 0.8 mile hike. After we went did the hike, we drove through Forks and picked up pizza at Pacific Pizza and brought it to Rialto Beach to eat.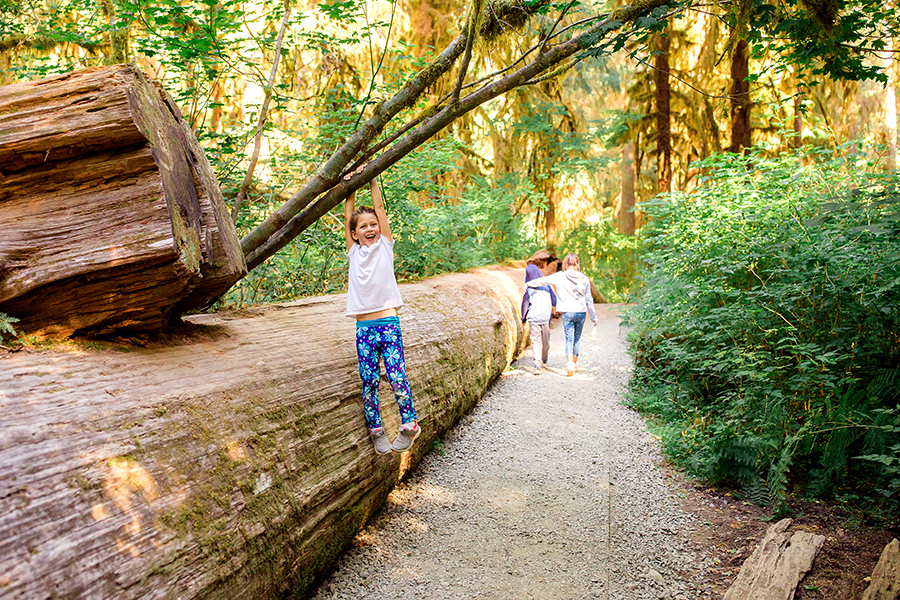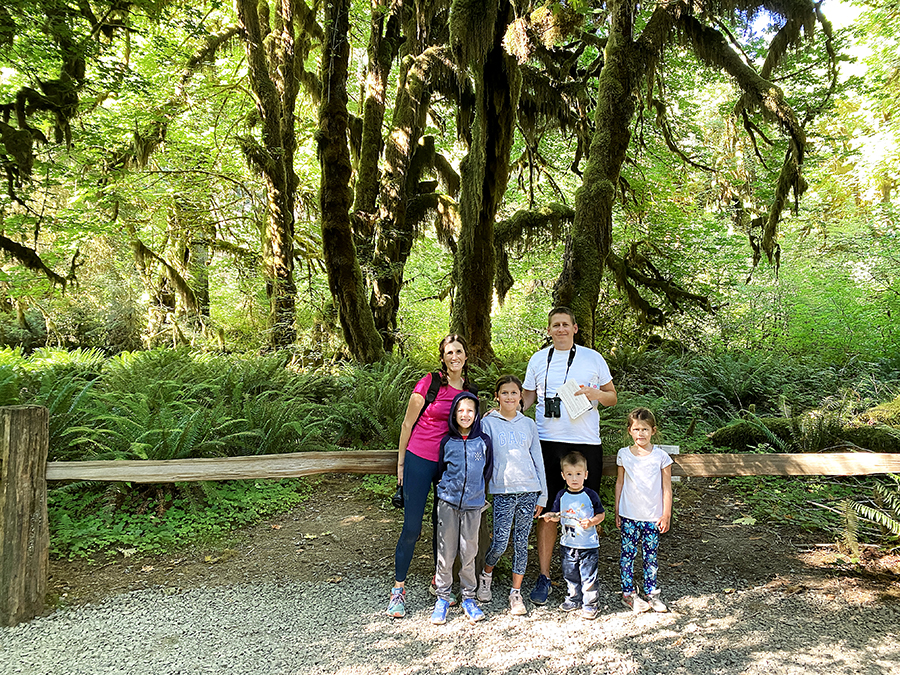 What Did We Do in the Mountain Area?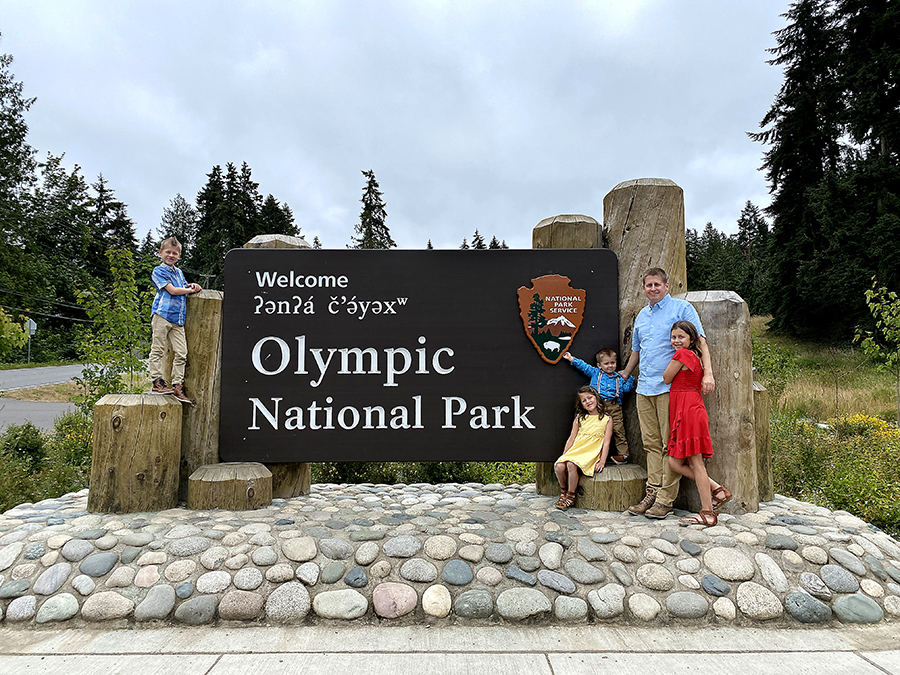 Our second day at ONP we went to the mountain area. We spent the night in Port Angeles so we were really close to the entrance. I thought about getting Bella's Pasta at Bella Italia but it was closed the day we were there. Can you guess what we did in the mountain region of ONP? That's right we took family photos up at hurricane ridge (we don't normally dress up to go to National Parks). We also completed the Junior Ranger books for the kids and went to the visitors center. I'm going to share our family photos in a separate post. It was absolutely gorgeous and we just lucked out weather wise that we could see all of the mountains.
Did You Actually do Twilight Stuff in the Area?
As you can see we were quite busy in ONP. I enjoyed the Twilight books but hiking and seeing the natural beauty of the area was a priority for me. If you look at a map you literally drive through Forks and Port Angeles. The visitor center in Forks was a 5 minute detour (including taking the photos) so it was really on the way. There were signs by Rialto Beach on the way to La Push about Vampires. So, I couldn't help but embrace the whole Twilight scene and it added to my whole experience. I had just finished reading Midnight Sun this year so it was fresh on my mind. Are you into Twilight? Would you do the same things on your visit Olympic National Park?