Hiking with kids in Mount Rainier National Park was a blast. It was July, and there were still little pockets of snow/ice on the ground. The kids said it was so cool to play in the snow with short sleeves on. They said they normally have to wear snow clothes to play in the snow. I thought that was funny that they "have to" wear snow clothes to play in the snow. Snow clothes are bulky so I can see how that's not funnest thing to wear. I love watching children play in the snow because they fully immerse their bodies in the snow to experience it all. Kids show me how to live life to the fullest.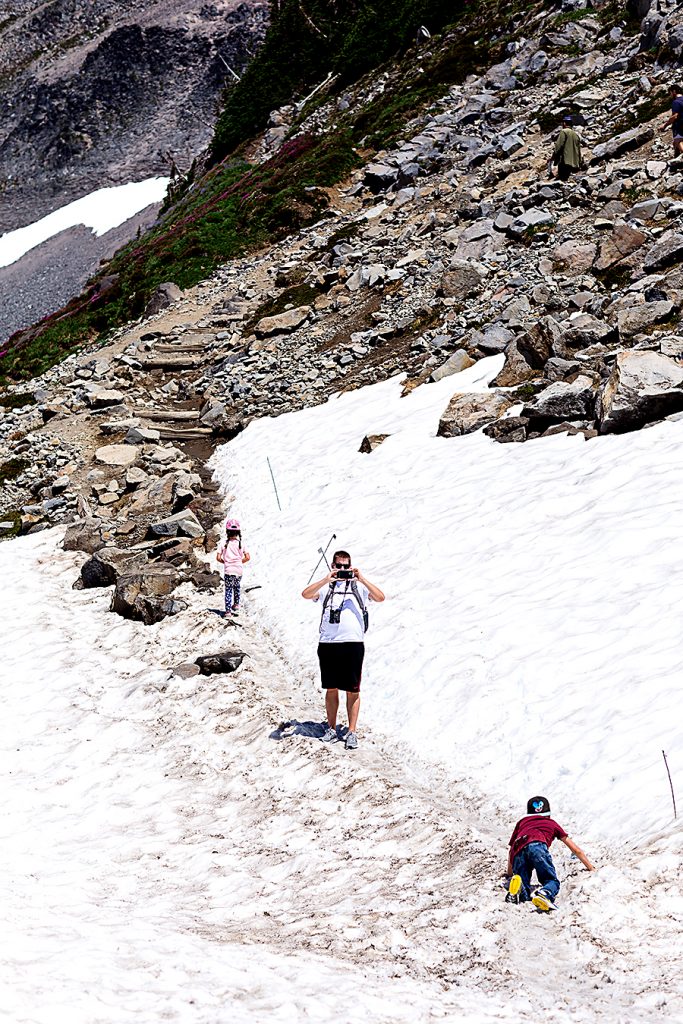 What hikes did we do?
First, we went to Paradise and really thought it was Paradise. The wildflowers were out, the sky was clear and weather was a little crisp (perfect hiking weather). We hiked the Skyline trail and saw Wilson Glacier Falls on the way. We stopped at Panorama Point because the trail was still covered in ice. The Park Rangers recommended us to stop here — they said the trail got more treacherous, muddy and icy after that. We saw some people who looked like they were trying to summit Mt. Rainier. They had axes, ropes, and much sturdier hiking shoes/clothes on.
It was incredible to see Mt. Hood and Mt St. Helen in the distance. We were fortunate it was clear and the visibility was so good. We were told that there are days when people can't even see Mt. Rainier while they are hiking the skyline trail. We packed a lunch and enjoyed that at Panorama Point.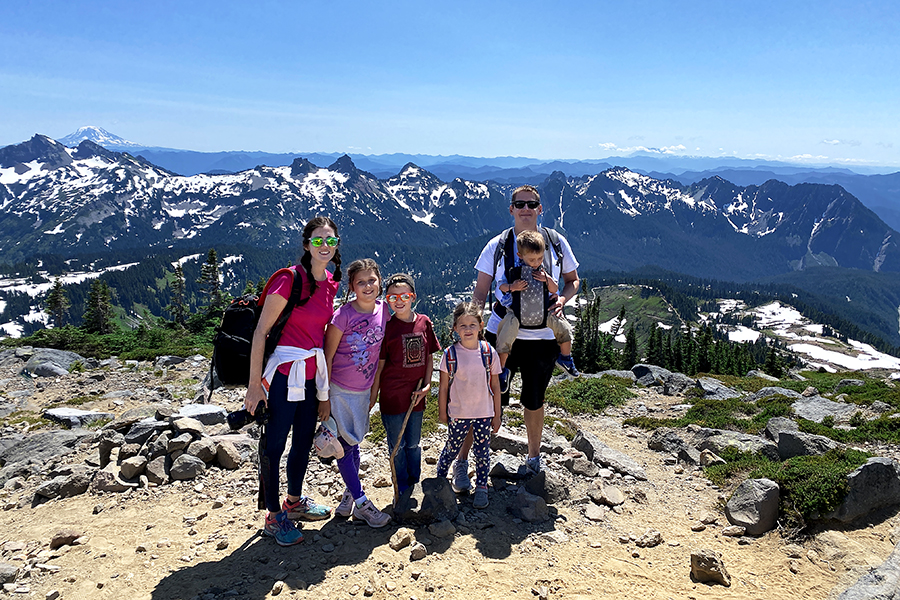 The second hike we did was the Myrtle Falls hike. Since the Skyline Trail hike was cut short this paved little trail was a great addition to our day. Seeing a waterfall up close with Mt. Rainier in the backdrop was beautiful.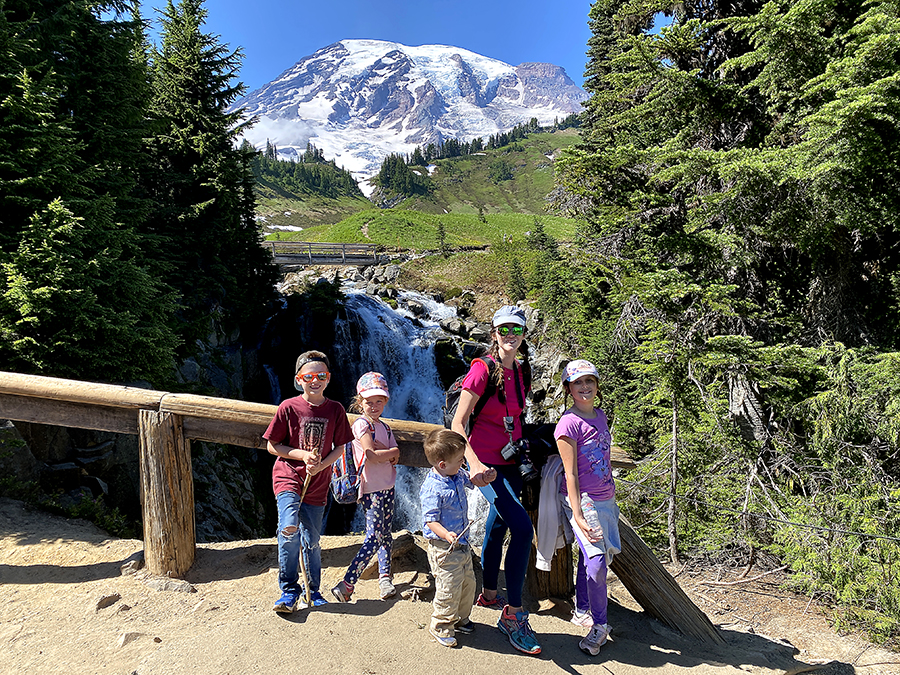 Junior Ranger Badges
Our kids were able to get the activity books for the Junior Ranger Pass. We mailed the books in and the Park Rangers mailed back a nice letter and the kids Junior Ranger Badges. Since the badges are an odd shape I was surprised they spent the money to mail them back but we were all so happy they did. We label and then save all of their Junior Ranger Badges in a bin. My kids love doing the Junior Ranger Activities and they do learn from them. Hands on learning is the best kind of learning in my opinion.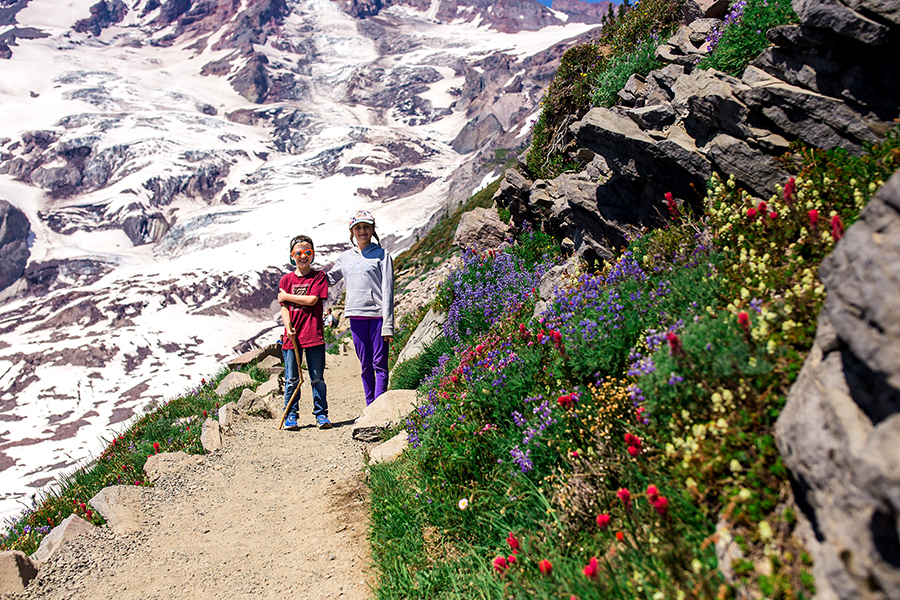 Where did we get Food?
For breakfast and lunch we ate food we brought with us. Not only does this save money, it also saves time! We ate at the Wildberry Restaurant right outside of the National Park. It was a good meal after hiking all day. We ordered a mix of Nepalese and American cuisine. I remember that the vegetable dish (the carrots and peas) were spicy. I love trying new food and spices.
We observed everyone working at the restaurant was male. The person who started the restaurant was/is a Sherpa for Mt. Everest. The restaurant advertises for expeditions to Mt. Everest. I guess if a person can tackle Mt. Rainier they might be interested in taking on Mt. Everest. I also read an article that part of the training for the Inspriation4 crew on SpaceX Crew Dragon to go to space included hiking Mt. Rainier. While we did not summit Mt. Rainier, it allowed me to pretend I too was preparing to go into space.
Our next stop was going to North Cascades National Park. On the way we stopped at Salt and Straw because I had heard some people post about their ice cream. They have some unique flavors. For example, I just looked online and currently they have a cinnamon and honey fried chicken flavor. It was nice to break up the drive and let the kids run around in a nice outdoor mall.