Here are four quick hikes that we did at Theodore Roosevelt National Park. I really had no idea what to expect with this park and perhaps are expectations were low but Theodore Roosevelt National Park exceeded our expectations. We stopped at the visitor center to chat with the ranger and for the kids to get their Junior Ranger Passes and see the Maltese Cross Cabin. We learned a little bit of history about Teddy Roosevelt. His wife and his mother died on the same day and he retreated out west to get away from it all. He wanted to stay out west in solitude forever but eventually back east. President Roosevelt was a pragmatic conservationist. He was a hunter but also knew the value of keeping land undeveloped. We're grateful for the National Parks in the United States.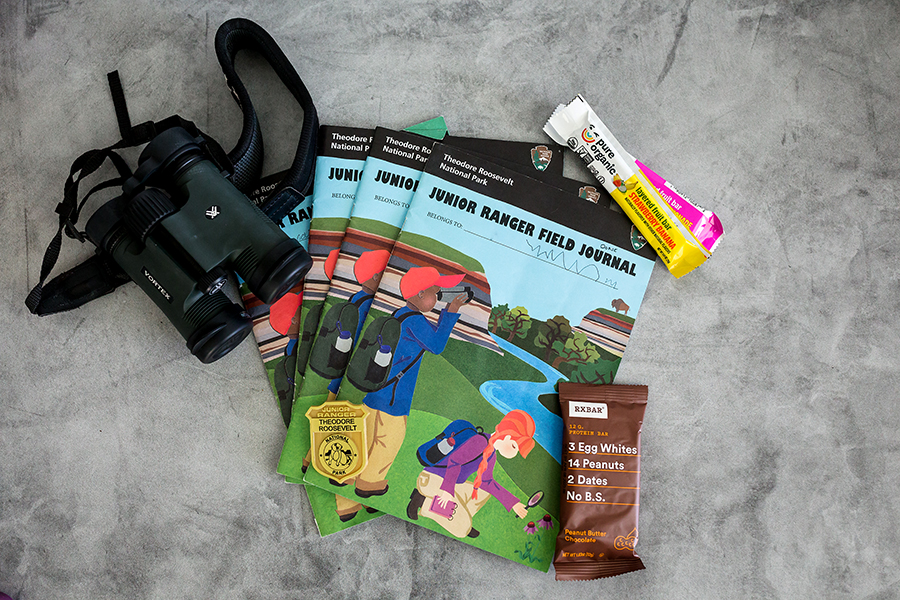 Wind Canyon Trail
This is where we were so lucky to talk to the ranger because the Wind Canyon Trail wasn't on our initial list but it should have been. The ranger said that it is the most photographed place in the park. I can see why it has views of the river and hills. The trail was short (only a 0.3 mile loop) well marked and gorgeous. While we were researching the trails a lot of blogs talked about how to go at sunset or sunrise to get the best views. It's probably true but we knew we would be there in the middle of the day. These photos were taken in the middle of the day in July.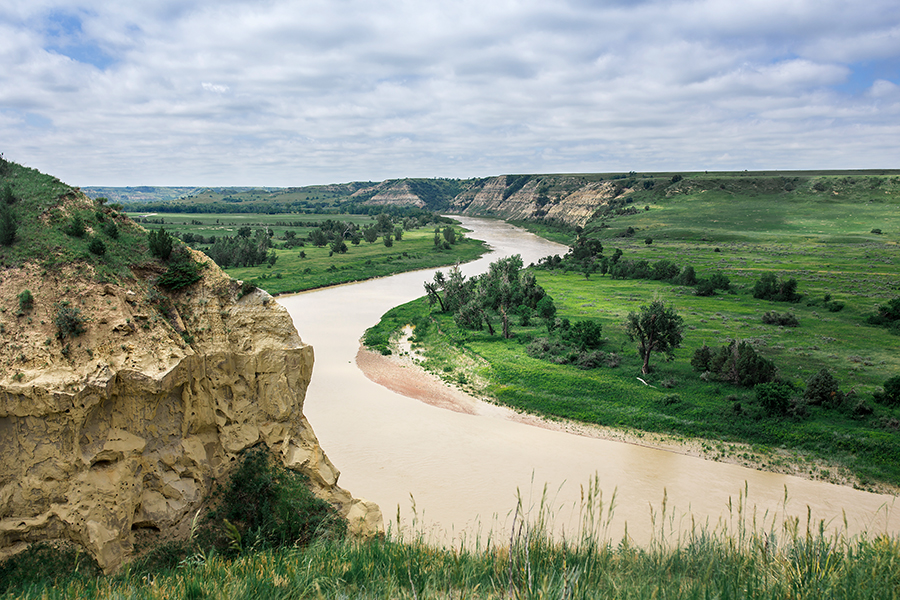 Boicourt Overlook Trail
One of the frequent comments we got from numerous locals who have been to this National Park was they had never seen this park so green. We were so lucky to see how lush and vibrant the park could be. Right before we got to the Boicourt Overlook Trail we saw some wild Buffalo crossing the road. We stopped to look at them. I always remember reading stories about Buffalo injuring people from getting too close and we stayed at a safe distance from all of them. These photos were taken with a zoom lens.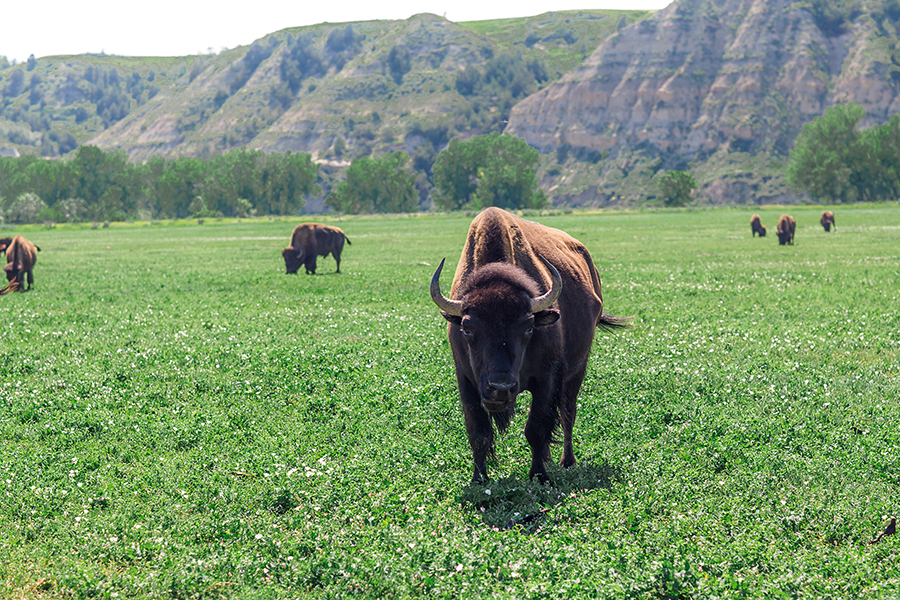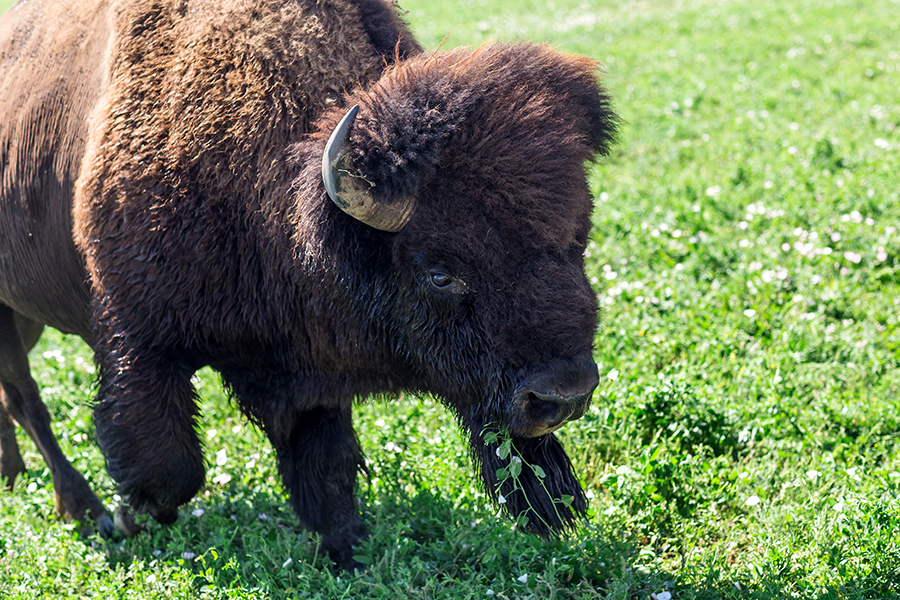 The Boicourt Overlook Trail is 0.8 miles. The trail is wide and we never felt like we were too close to any ledges.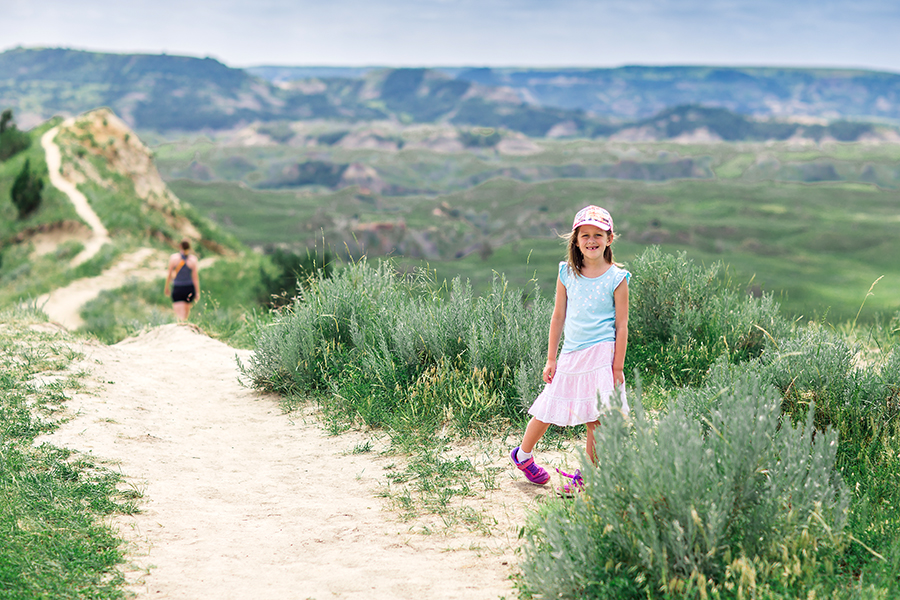 Buck Hill Trail
We stopped right by the trail to eat a picnic lunch and then did the 0.4 mile trail. It's a bit steep and gets to the second highest point in the park. This trail did have one ledge that I felt like I had to watch my kids carefully. It was another beautiful trail and I'm so glad we did it. It was windy since we were higher up and felt great to do a little steeper trail.
Coal Vein Trail
This trail was 0.6 miles long. We read some people saw wild horses and prairie dogs but we did not see them. I'm guessing you have to go closer to sunrise or sunset to see the animals. This was our last of four quick hikes in Theodore Roosevelt National Park. We debated whether or not to drive to the North Unit after but there were road closures to the North Unit. On the way out of the park we stopped to take a photo with the sign. Dinner that night was at Nardello's Pizza in Bismarck before turning into our hotel for the evening.