I remember the first time my mom learned how to make homemade pizza dough. My mom grew up in Vietnam so homemade pizza wasn't a thing for her. She wanted to assimilate to life in America and I guess one way how was learning to make pizza. We had a family over to swim and the mom taught my mom how to make pizza dough. I remember standing in my swim suit watching them make the dough. This recipe so easy. This skill has been used many times since and one that I have passed on to my children. It's funny to me that my families first homemade pizza dough experience is a core memory for me. Pizza is an important part of life!
We never had a set day of the week that we did homemade pizza but we had it frequently and regularly. I've modified my mom's recipe by swapping out bread flour for white wheat flour. My kids love homemade pizza dough because they get to decorate their own pizzas. They also like rolling out the homemade pizza dough. Everyone chooses what they want and everyone is happy! We generally serve our pizza with spinach salad and a fruit.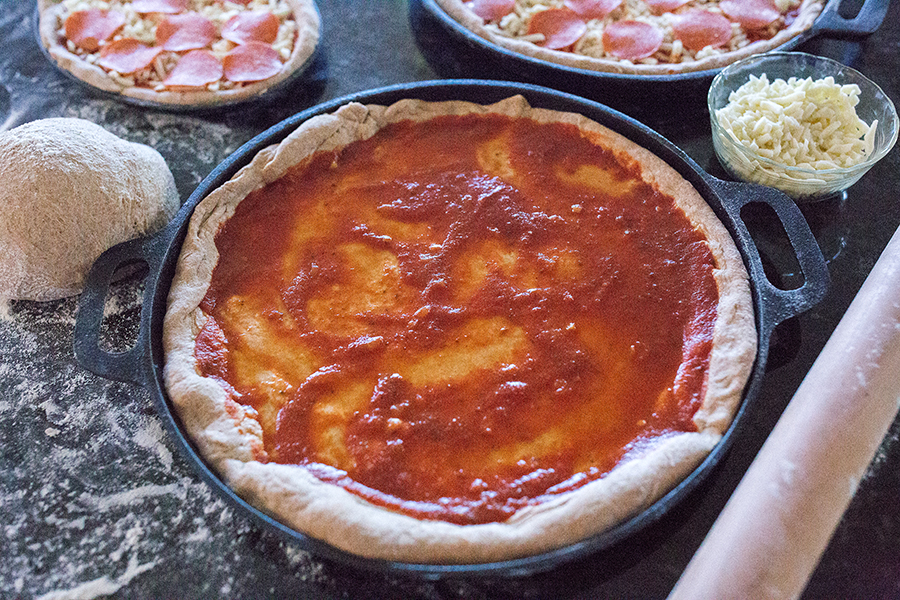 What Type of Pans to Use
When Matt and I were first married we had a pizza stone. It didn't make one of our moves so since then we have just used aluminum foil on cookies trays. We've always thought the pizza turned out great and have been content with our sheet pan pizzas. We generally roll our pizzas flat without much a a crust.
Whenever we go to my parents house they use a combination of pizza stones, pizza pans and now these cast iron pizza dishes. My parents like crusts and I think when you have a pizza dish you end up with more of crust because you have the sides of the dish. My kids love the individual cast iron pizza dishes my parents got at Bed Bath And Beyond (top right of the photo below).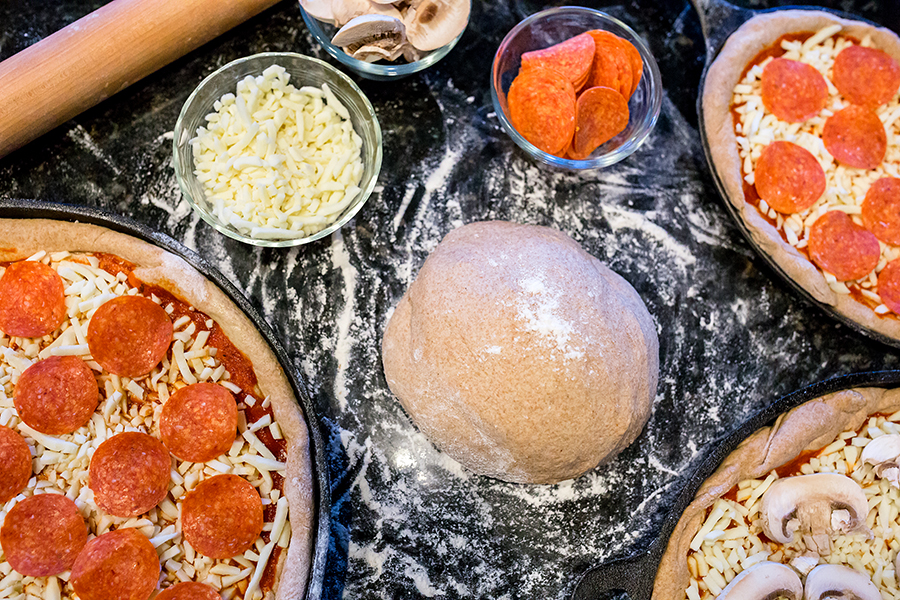 Homemade Pizza Dough
One thing I have noticed changing flours will definitely affect the amount you use. If white wheat flour isn't available, I will use 1/2 wheat flour and 1/2 white flour for the pizza. I've made pizza before with only using wheat flour; however, the dough comes out a little drier. . I've also made this pizza dough recipe without any rise time. It still tasted great. Basically I've never had a problem making pizza dough and everyone has been happy with dinner. The only time I think this recipe wouldn't work is if the yeast didn't rise (meaning the yeast was too old or it got killed with too hot of water).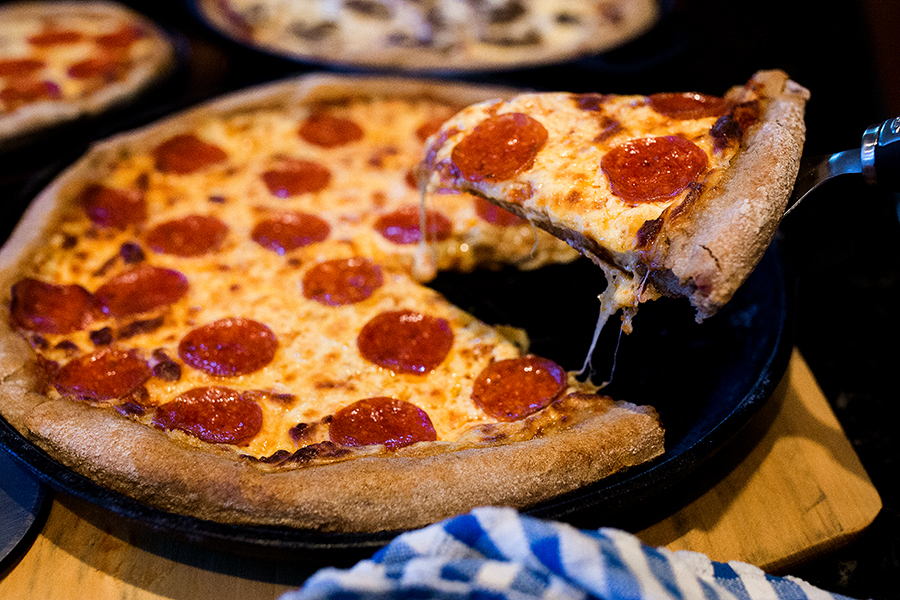 As I look at these photos, I see I didn't get the cheesy pullaway effect like the deep dish pizza we had in Chicago. I'll have to work on that. Do you have pizza regularly at your house? Do you have homemade pizza regularly at your house? What toppings are your favorite on pizza?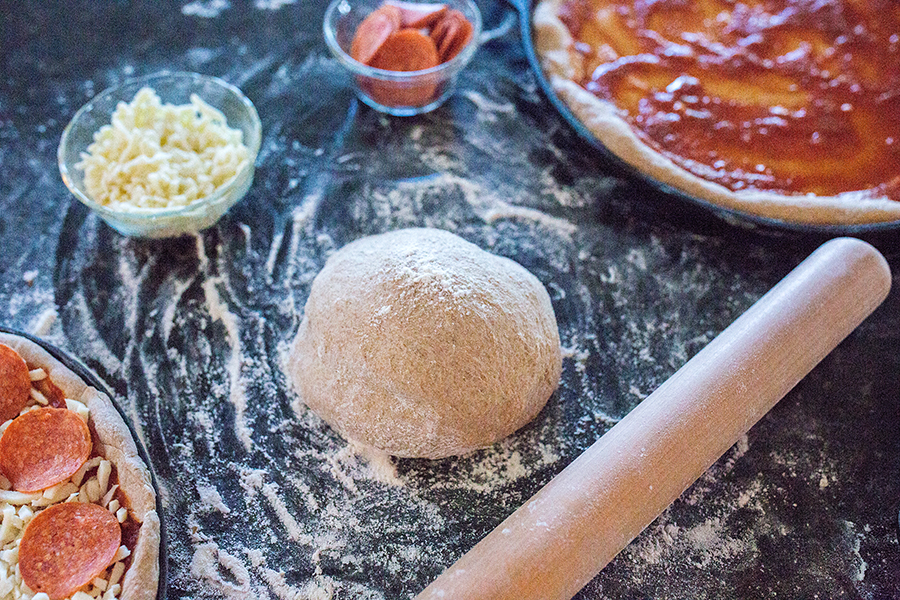 Print Recipe
Ingredients
1 cup warm water

1 Tbsp of honey or sugar

1 Tbsp of yeast (one 2 1/4 tsp packet is fine as well)

2.5-3 cups of white whole wheat flour

1 Tbsp of Extra Virgin Olive Oil

A little bit of white flour to roll dough out on.
Instructions
1
Preheat oven to 450 degrees
2
Proof the yeast by placing in the warm water with 1 Tbsp of honey. After about 5-10 minutes the yeast should be poofy. If it not then you'll need to start over.
3
Then knead in the flour and olive oil for 10 minutes.
4
Lightly cover pizza dough with a damp cloth or syran wrap. Allow to rise until double about one and half hours.
5
After it has risen, punch down and roll out on a lightly floured surface (I use white flour to sprinkle on my counters)
6
We normally double this recipe so each person can make their own pizza with a little bit of leftovers. We have six people in our family.
7
Add toppings and bake in preheated oven for 11-13 minutes.