Here are our Greek and Roman Family Halloween Costumes. Can you guess who we are? We started discussing Halloween Costumes in August. Yes, in August. It takes a while to order costumes (you know supply chain issues) but also because if something doesn't fit right we have time to reorder. We took everyone's ideas and had a list about 30 choices. Then people voted for their top 6. Then the list was shortened and we just had various voting rounds until Greek and Roman's were decided upon. Matt thought that we were going to be generic Greeks and Romans like our Pirate costumes. However, I have always wanted to be Medusa so other's followed suit in choosing a specific person.
Matt decided to be Julius Caesar. My oldest daughter is pretty into Greek Mythology and decided to be Artemis. She loved the idea of the hooded cloak and having a different weapon with a bow and arrow. I also loved the idea she was Artemis because we had passes to the Kennedy Space center this year and they are doing the Artemis missions now. My youngest daughter picked her costume and we turned it into Aphrodite with some embellishments. The boys were a roman soldier and gladiator. I was wondering if they should be a specific gladiator (like Spartacus) or roman soldier (like Agrippa or Mark Anthony) but ultimately we decided to have them be generic. The gladiator costume was based off of the movie Gladiator and the fictional character of Maximus.
Where Did We Get the Costumes?
These Greek and Roman family costumes were so fun to put together.
Julius Caesar
The costume was from Halloween Costumes. The crown was from etsy. The crown was just some green leaves spray painted gold perhaps we could have done that ourselves. The sandals are from Birkenstocks. We ordered a couple of pairs because the color was texture were slightly different in each one. We were able to return them for free.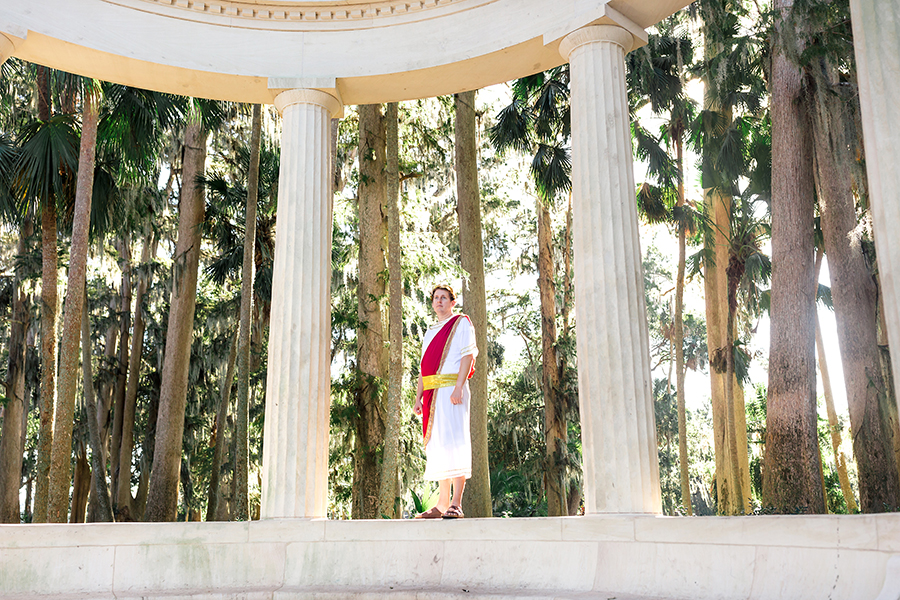 Artemis
She had a vision of what her whole costume was going to look like. We pieced the look together from a few different stores. Brown Boots were on the top of her list to have so we decided all of her accessories should match and also be brown leather. Her White Toga was from –ebay. The blue cape, bow and arrow, arm guards, leather belt were all from Amazon. I really loved all of her details. Her boots from were DSW. She had some white shorts and we bought a white tank top from Old Navy because the white toga was quite thin.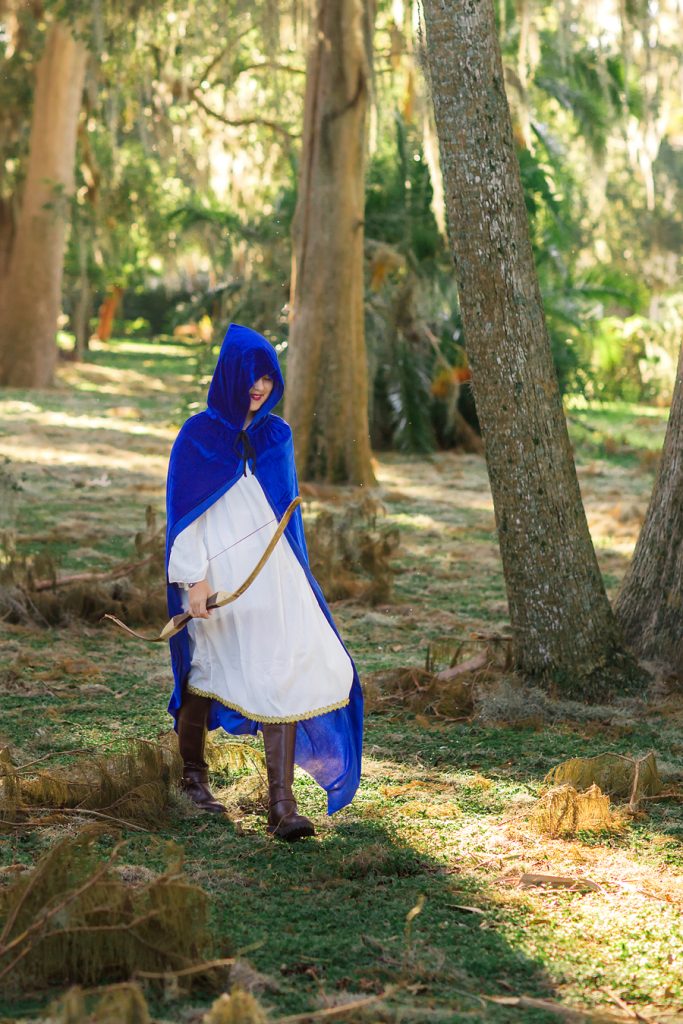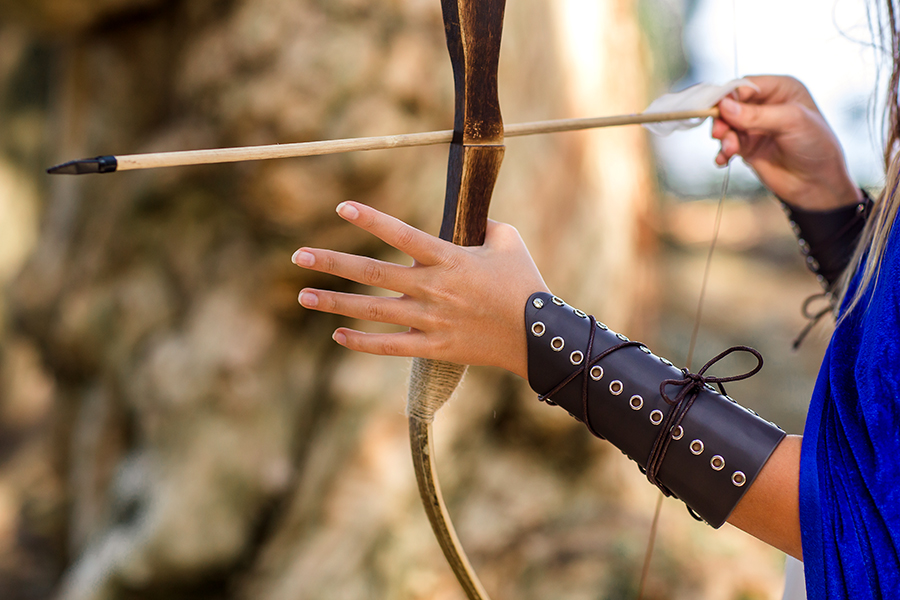 Aphrodite
She initially saw a costume she liked on Halloween Costumes but it was out of stock. Pink was her choice of color. It never came back in stock so we searched ebay and luckily found the same exact costume. It came with a leaf crown but we decided to go with some different jewelry.
The crown and armbands were purchased from Shein. One disclaimer about the website Shein is the stuff is cheap and the quality is the same. I picked up the crown and one of the little pieces broke off. We had to be very careful with everything from that store. After a few uses I don't think the jewelry would last. It's so interesting considering jewlery and how it really is a specific to different eras. No one wears bracelets on their upper arm but back then that was the style. She already had the gladiator type sandals from our family pictures last year (and they luckily just barely fit). They were purchased from DSW. Her toga was see-through so we also got some white leggings from Old Navy.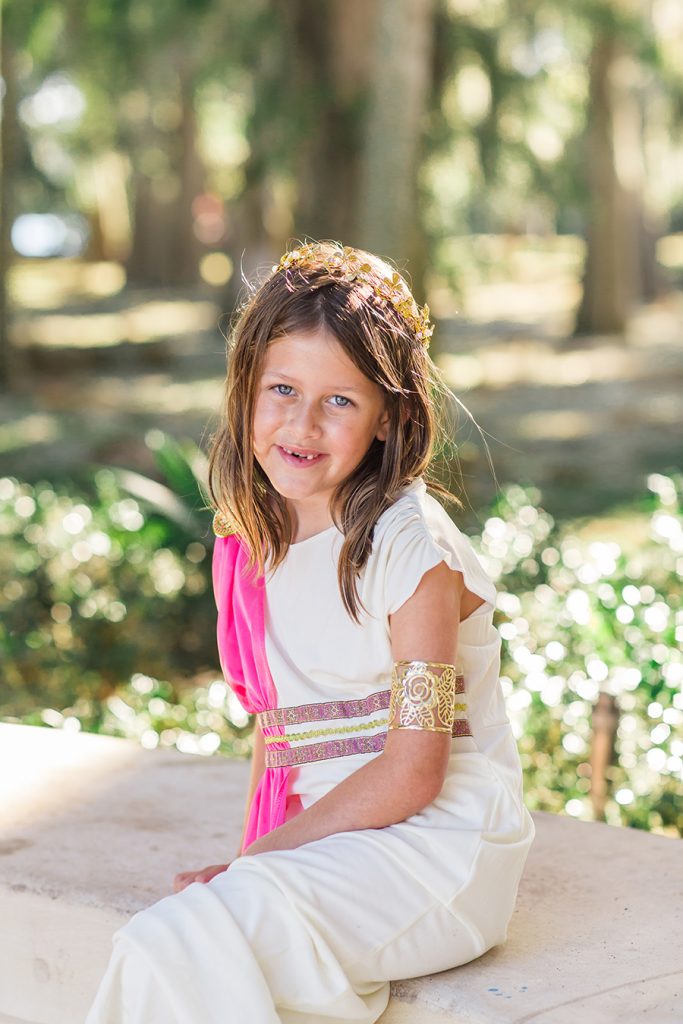 Gladiator
The costume, shield and sword are from Halloween Costumes. The sandals are waterproof and Birkenstocks.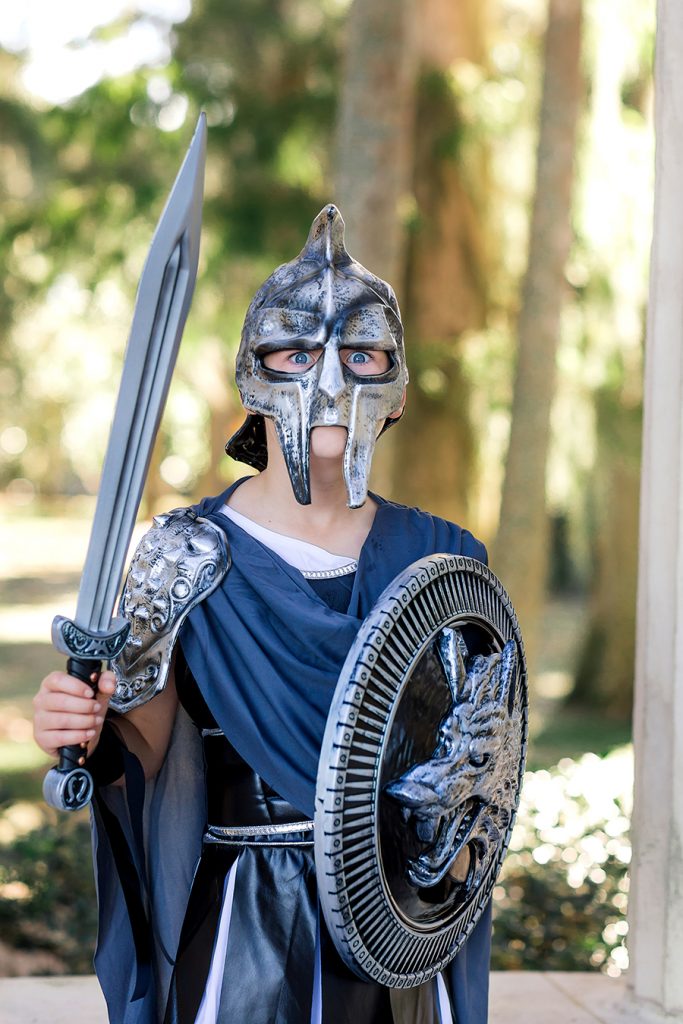 Roman Soldier
The costume, sword and shield (yes separate purchases) from Halloween Costumes. The sandals were purchased from Shein (again not expecting them to last very long). This was the first year he got a weapon for Halloween and he was so excited.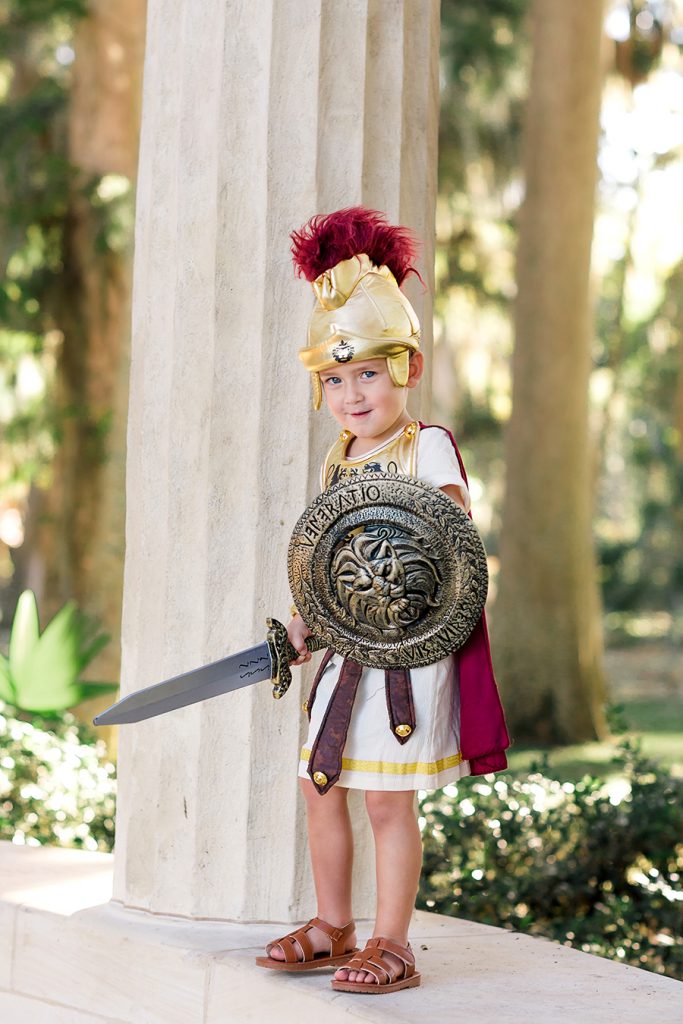 Medusa
I always like to have a costume that is semi homemade. My costume was the one this year. I took my old green maternity dress (originally from Amazon) and shortened it and cut off the sleeves. To embellish the green dress, I added a gold cape and waistband. I used different gold fabric I found from Jo-Anns. My accessories: earrings, arm bands, rings, gladiator sandals are all from Shein. I later discovered I could have also gotten a snake nose ring from Shein and if I had thought about that I would have gotten that as well.
The green eye shadow is from Mac. The snake headpiece, necklace and green lipstick are from Amazon. I found some tutorials for Medusa Makeup on youtube. I also considered white ore red contacts for my eyes but decided not to do that because I was the one taking the photos and I needed to be able to see and not mess around with my eyes during the photo-shoot. For my hair I just did little braids. There are so many ways to do Medusa. The crazy hair (I was thinking like Bellatrix La Strange) would have been fun but I think a lot of work and I needed something simpler.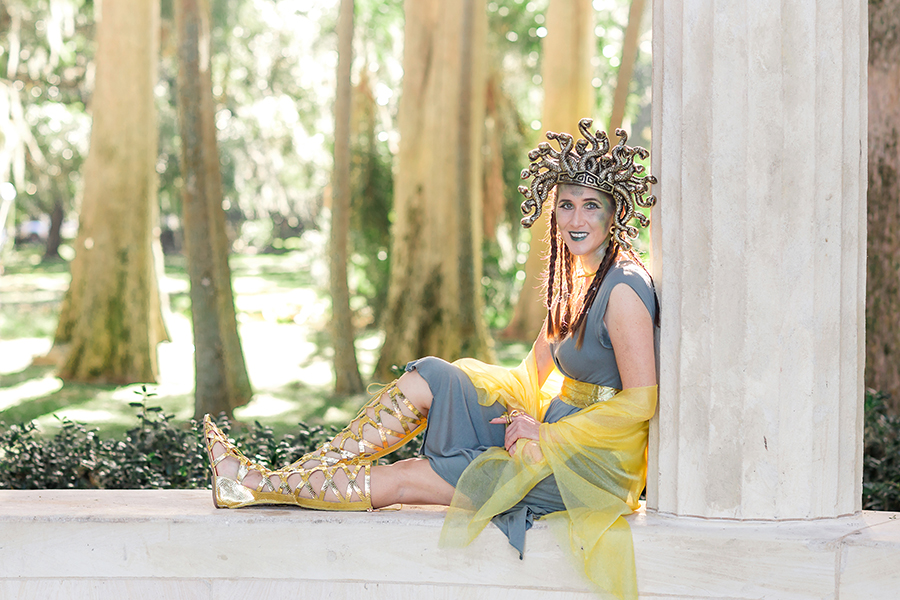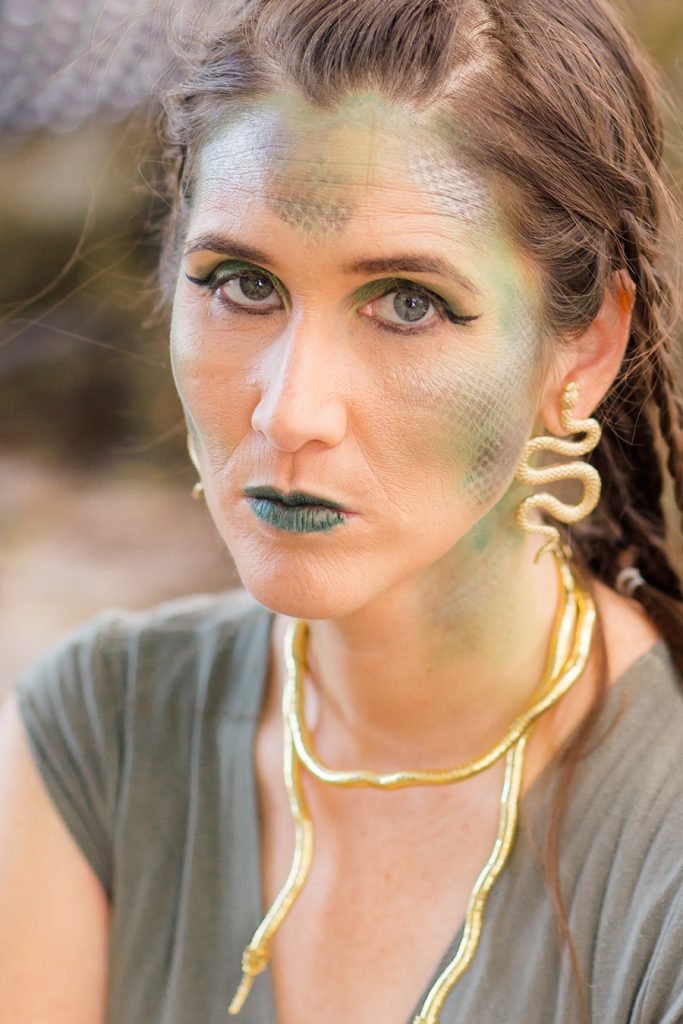 Greek and Roman Family Halloween Costumes Location
I think the location really helps add to the atmosphere for photos. My initial thought was ruins but I wasn't sure where to find Ancient Greek or Roman ruins relatively close to us. My father in law went on vacation to Italy this past summer. So, when we were talking about locations my son said, "well Grandpa went to Italy why can't we just take our photos over there?" Wouldn't that be amazing if we could just go to Italy for a weekend to take photos in Rome? Since, flying to Europe for a weekend wasn't in our budget I had to think more local.
I searched for the white columns and ruins. Some things I considered were the Sugar Mill Ruins in New Smyrna Beach and the Historic Arches in Ormond Beach. We actually drove to the arches but there were signs that said no trespassing and they were right by a road so I wasn't entirely sure where to put my tripod and camera. So back to the drawing board.
The idea of white columns was what I was looking for and I thought about the state capitol (Columbia was the closest thing). I called and they said we could take photos on the steps with the columns. I looked around for other columns and while I found some nothing was really grand… until I found this location in Orlando. These photos were taken at the Kraft Azalea Gardens. This was quite the location for family photos so I'm glad we got their early to get these photos done. We let some other families take a some photos in between set ups for us. The location ended up being perfect and better than the ruins and even better dare I say if we had gone to Italy.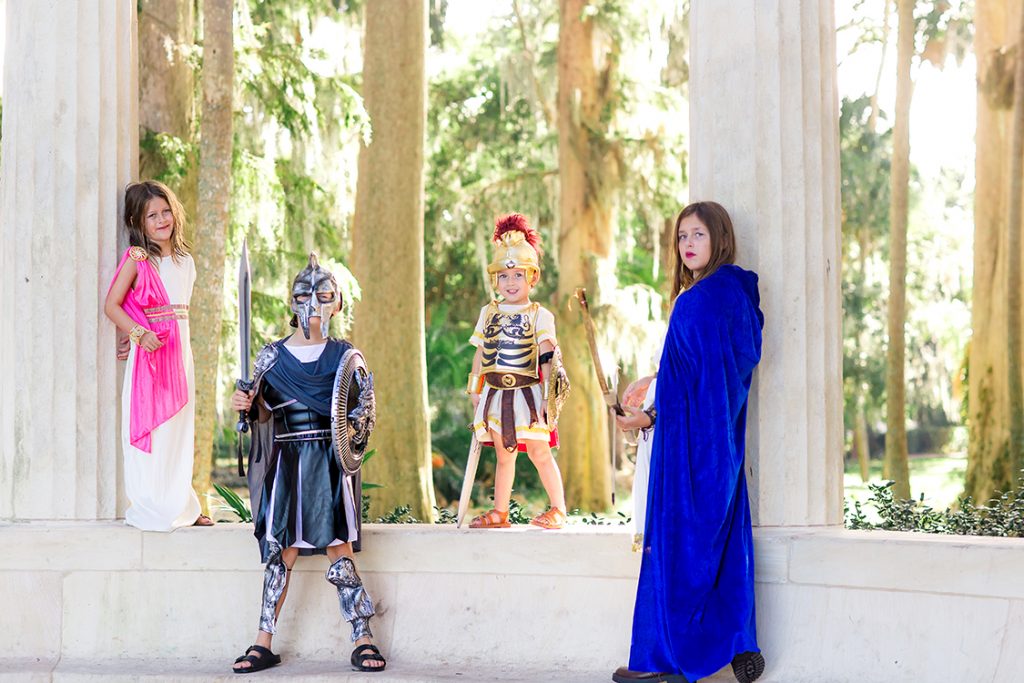 Others Who Also Did a Similar Theme to Ours
I noticed that another couple did Cleopatra and Julius Caesar for a couples costume. I didn't want anything Egyptian so that's fine we didn't have Cleopatra but she does naturally go with Julius Caesar. Then on Halloween my sister in law shared her family pictures and without any discussion with her they ended up doing a Greek and Roman Halloween costumes as well. So so funny. Her cute daughter was Medusa (hard to compete with my niece so she obviously wore it better), her son was a Roman Soldier (same exact costume as our Roman Solider). I want to get a picture of the cousins together. Her husband was a petrified stone man (like someone who was turned to stone from Medusa) and she was a Greek Goddess (I don't think a specific one). She had a beautiful purple and gold outfit with really intricate beautiful braids.
Then my other sister in law (still on my husbands side of the family) shared her family Halloween Costumes and her and husband did a couples theme. She was Medusa and he was a Gladiator. Her costume looked amazing. Again all in the details she added a weapon for Medusa a snake staff (I loved that idea). My brother in law was a Gladiator with a red toga. They both looked so good. It was so funny that none of had talked to each other about our costumes and we all had similar trains of thoughts. All three of our Medusa costumes looked different so it was fun to see the different interpretations of Medusa. Maybe my father in law going to Italy all got us thinking in our subconscious about ancient Greek and Roman characters.
Who would you pick for Greek and Roman Family Halloween Costumes? The possibilities are quite endless huh?