My mother in law gifted us these candied pecans (what my husband affectionately named Christmas Crack) one year for Christmas and I'm definitely addicted. They are beyond amazing. She's given them before as neighbor gifts and she knows how much I love them that she ships them over to our house for Christmas each year. She also gifts them in the prettiest packaging. I love them so much. Finally I asked her for the recipe and was surprised at how simple the recipe is.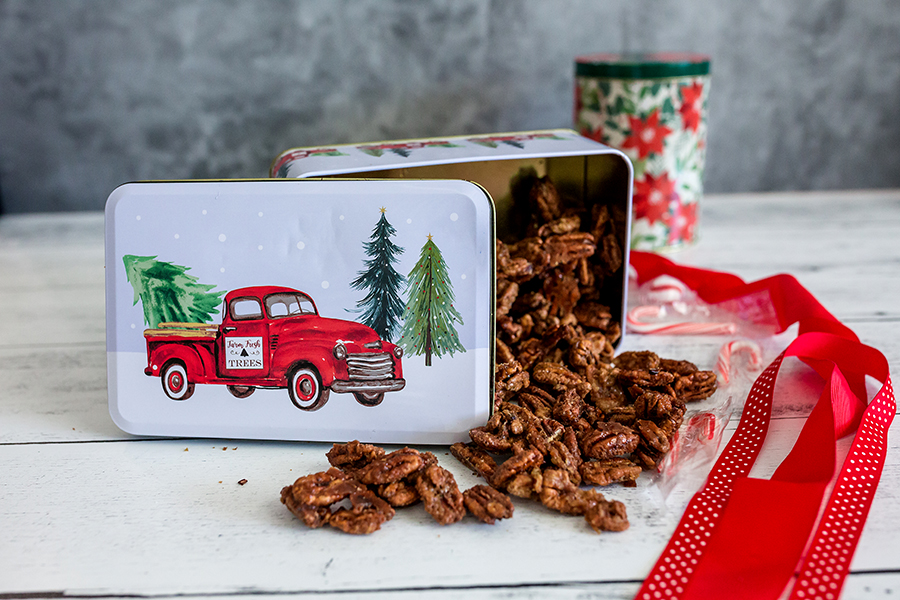 Christmas Crack
I've tried lots of candied pecan recipes over the years all professing the same thing that the sugar will coat onto the pecans. Some don't work at all some work with quite a bit of effort but this recipe is so simple and with three ingredients and not messy at all. I've made this recipe with aluminum foil coated with cooking spray and with parchment paper. Either works ensuring the clean up is really easy. These are a great gift or a nice topper for salads. The most common way we eat them is just straight from the tin they are addicting and I really have to exhibit self control with "Christmas Crack".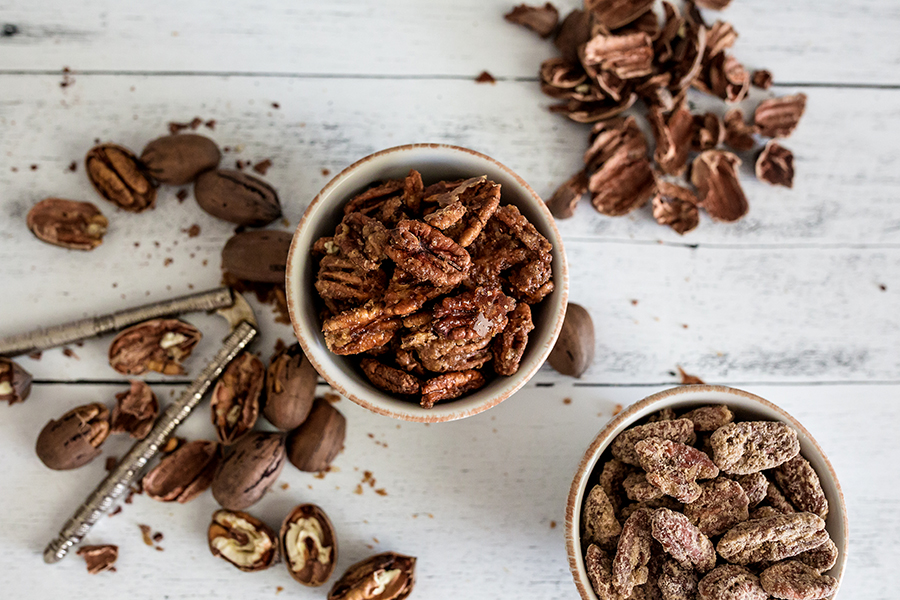 My Favorite Nut
Pecans are my favorite nut. I think it's because my grandparents had a pecan tree on their property. I have found memories growing up and picking pecans. My kids get to pick pecans from that very same tree. I love it. The tree has so many pecans each year that friends come over to pick pecans for their families. One of the families said they like to shell pecans while chatting over the dinner table. The pecans for these photos (minus the lighter colored ones from my Mother-In-Law) were all hand shelled by me. It took me about an hour to shell two cups worth of pecans. The lighter colored pecans were made with light brown sugar and the darker ones were made with dark brown sugar.
I remember munching on some pecans at my grandmother's house and asking her if she picked and shelled these. With a twinkle in her eye she said, "no, I bought them." I was surprised she didn't but after shelling lots of pecans since then I can definitely see why she would just buy them. It's quite a laborious process but a good activity if you need to keep your hands busy.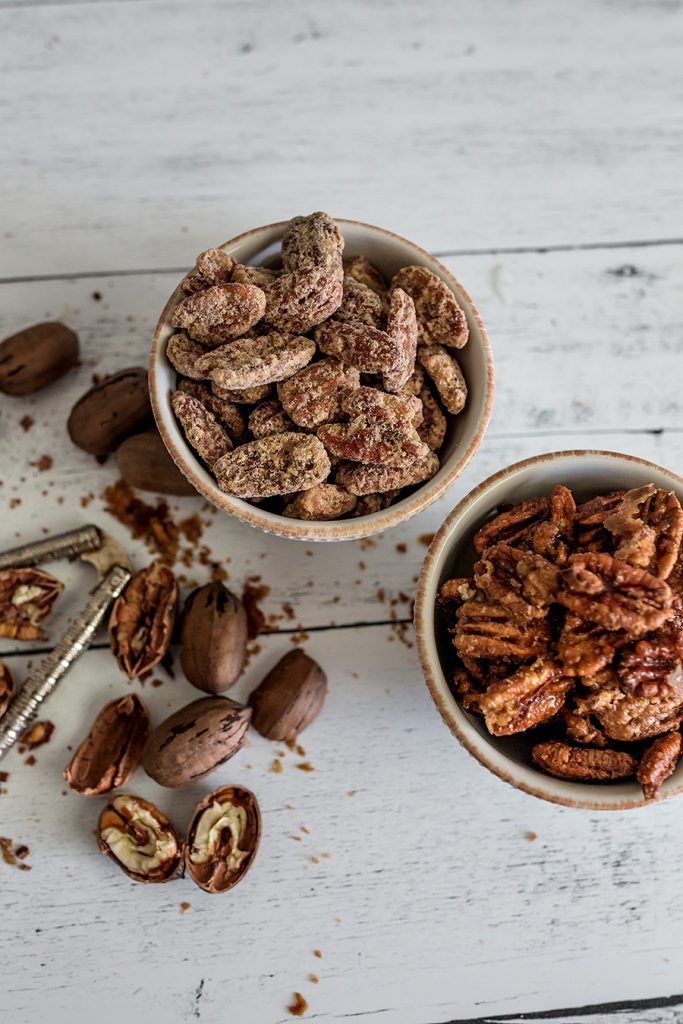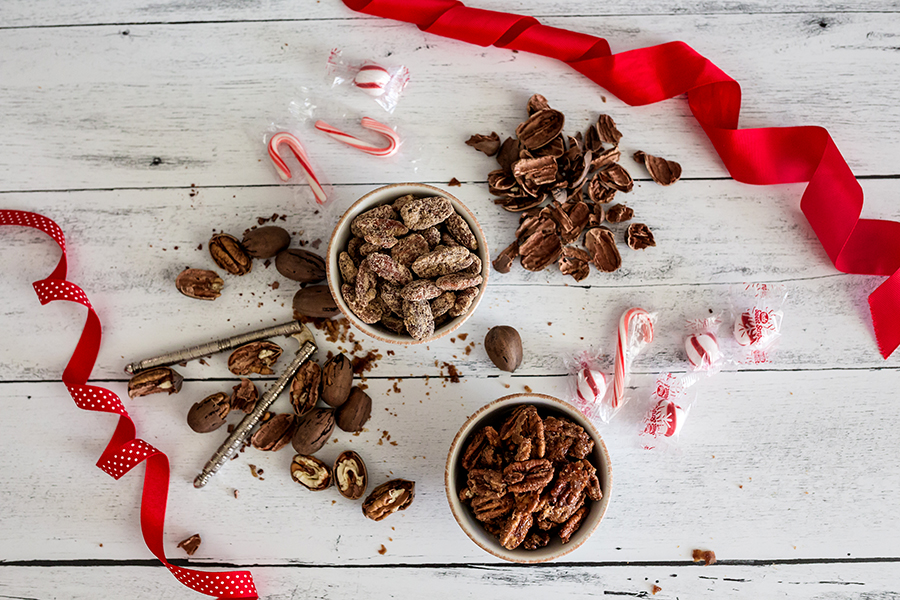 Print Recipe
Candied Pecans aka Christmas Crack
Ingredients
2 cups pecans

1/2 cup light or dark brown sugar

1/4 cup heavy whipping cream
Instructions
1
1) Preheat oven to 325 degrees.
2
2) Spray aluminum foil with Pam or use parchment paper so the nuts don't stick to the cookie sheet.
3
3) Mix the pecans, brown sugar and heavy whipping cream together in a bowl
4
4) Spread onto pan in a single layer.
5
5) Place in preheated oven for 10 minutes.
6
6) Take out of oven and stir around. Then place cookie sheet back into oven for additional 10 minutes (or until coating is dry).
7
7) Remove from oven and stir pecans for a few minutes.
Notes
**You can see the difference between using light and dark brown sugar with the photos. Recipe adapted from Paula Deen
Recipe is adapted from Paula Deen