Two Days in Glacier National Park was lovely. This was my third time here and I can't get enough of this National Park. This was the first time for two of the kids though so it was great to make sure the whole family has been to Glacier National Park. Montana is where my father in law is from so it's especially nice to expose our children to their family heritage. My kids got to take photos with their only living great grandparent so that was especially important to spend time with grandma.
We went with Matt's family. His mom and grandma stayed home and made us dinner rolls and cinnamon rolls. They are so good, grandma's specialty and a fun treat to have after two days of hiking. We did some new hikes to me. The last two times I have been here we have done the Trail of the Cedars and Avalanche Lake hike.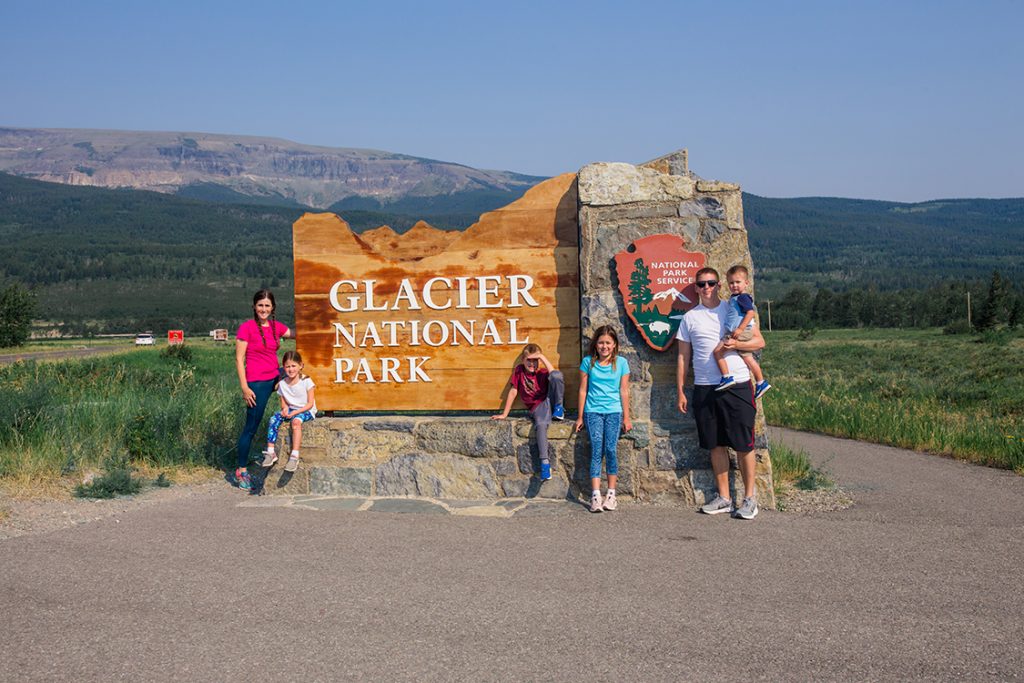 First Day at Glacier National Park
St Mary and Virginia Falls Hike
St Mary's and Virginia Falls were the hikes of the day for us. We hiked from 11:30am- 2pm. With all of Matt's family there were three cars and we were supposed to meet at the trail head and then hike together. Little did we know there are actually a few trail heads to get to the same place so we couldn't find his family until we got to the falls. We waited (they waited at their trailhead) then we all decided to go and eventually found each other. There isn't any cell phone reception in the National Parks so that's why we couldn't communicate. We always download the parks maps ahead of time since our GPS won't work once we're in the National Parks. Round trip to Virginia Falls (you see St. Mary's along the way) is about 3.6 miles round trip (depending on where you start).
The falls are beautiful and the water is cold. There is actually a bridge and some cliffs that some people jump off. The water is this beautiful ice blue color. My brother and sister in law were brave enough to jump off the bridge. My sister in law said that the water is so cold that it took her breath away for a minute when she landed in the water. It was pretty warm. On the way back we were able to see a moose with our binoculars. There were also several colors of wildflowers and it was a great day to hike. There was some haze in the sky from the wildfires. The air quality was ok though.
Rest of Day One
After our picnic lunch we stopped at Logan Pass to get the kids Junior Ranger Passes and saw some Big Horn Sheep. This was the same place that I saw the Big Horn Sheep a few years ago. It takes a long time to drive through Glacier National Park. The Going to the Sun Road has sheer cliffs so everyone is driving slow. We drove to White Fish to spend the night. This was my first time visiting White Fish. This was a fabulous town to walk around and get dinner. It is much more touristy than the St. Mary's side of Glacier. We walked around White Fish and got gelato at small shop (I couldn't find the name) while we were waiting for our dinner reservations at Buffalo Cafe and Nightly Grill. I would definitely recommend it.
Second Day at Glacier National Park
Trail of the Cedars
We did the Trail of the Cedars hike(1.4 miles round trip). It's a boardwalk, shaded and beautiful hike. Trail of the Cedars is the precursor to doing the Avalanche Lake Hike. Even though Trail of the Cedars is a short walk it's so beautiful I definitely recommend it.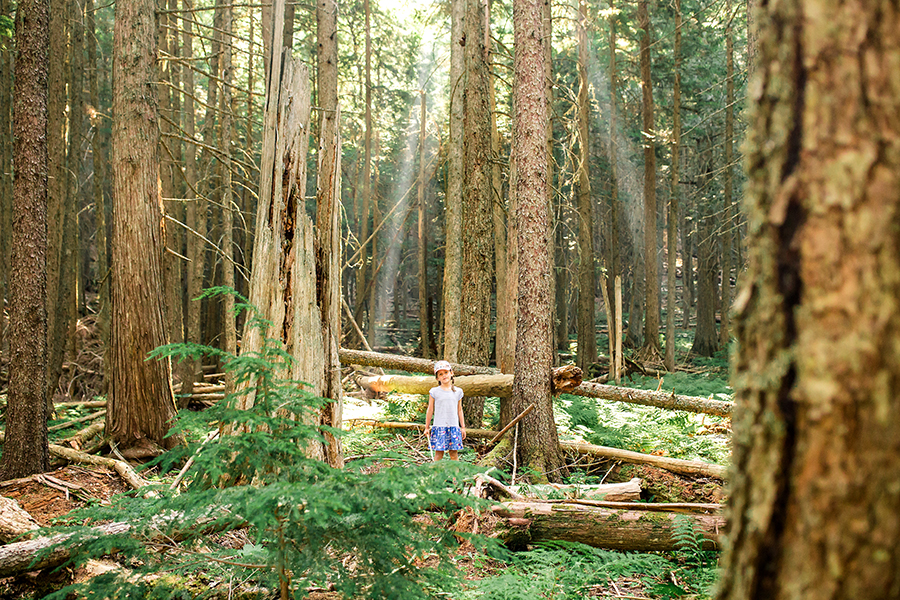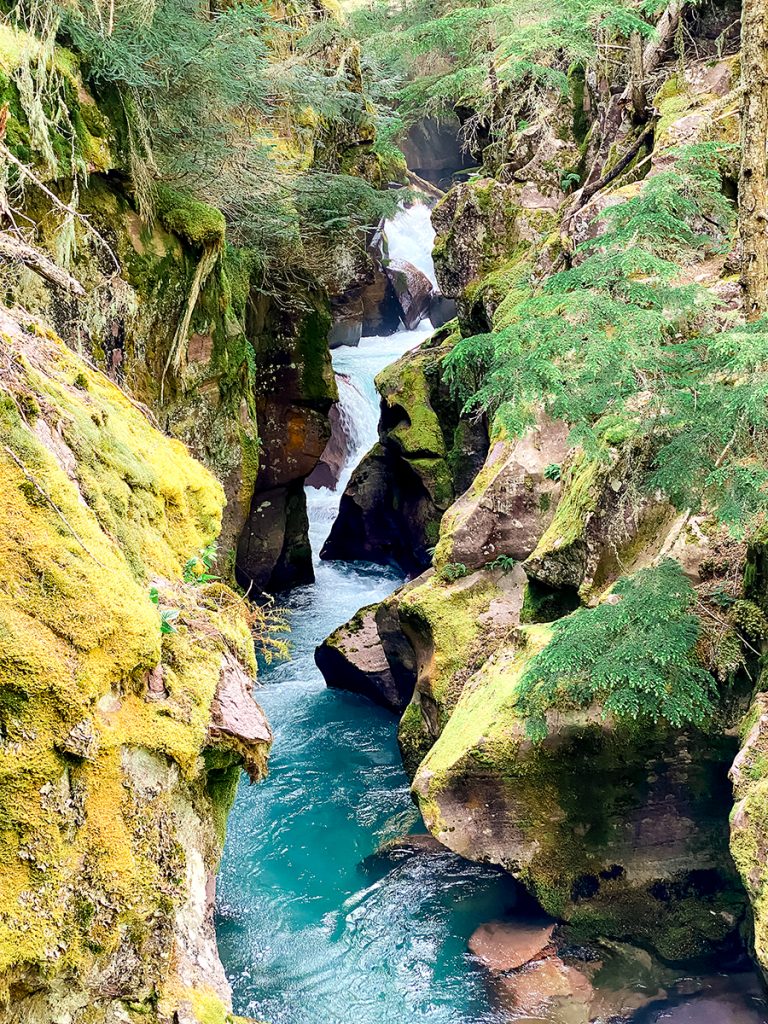 Hidden Lake Trail Overlook
We were heading back to Great Falls that night so our second hike of the day was the Hidden Lake Trail. There were grizzly bears fishing so part of the trail was closed. We learned this at the ranger station the day before but still wanted to do the hike. We were only able to hike up to the Hidden Lake Overlook (2.8 miles round trip) and the hike was picture worthy the whole time. My daughter fell during the hike and where she sat/fell we looked behind her and there was a mountain goat a few feet away. That helped calm her down. It was neat being close to the mountain goats.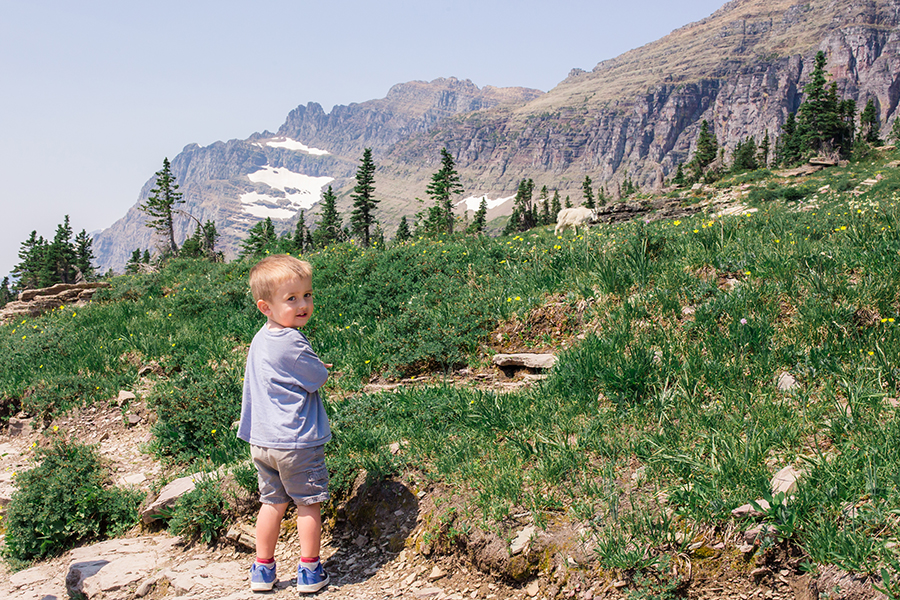 Rest of Day Two
The Hidden Lake Overlook Trail is at the visitors center at Logan's pass so we turned in the kids Junior Ranger Books. Then on the way out of the park we took the time to stop at some lookouts and even found some wild huckleberries! I think huckleberries are type of blueberry. It was a berry filled summer since we had just come Oregon and Washington. We had a couple of hour drive to Great Falls where all the kids crashed. We had dinner at Jaker's in Great Falls that night.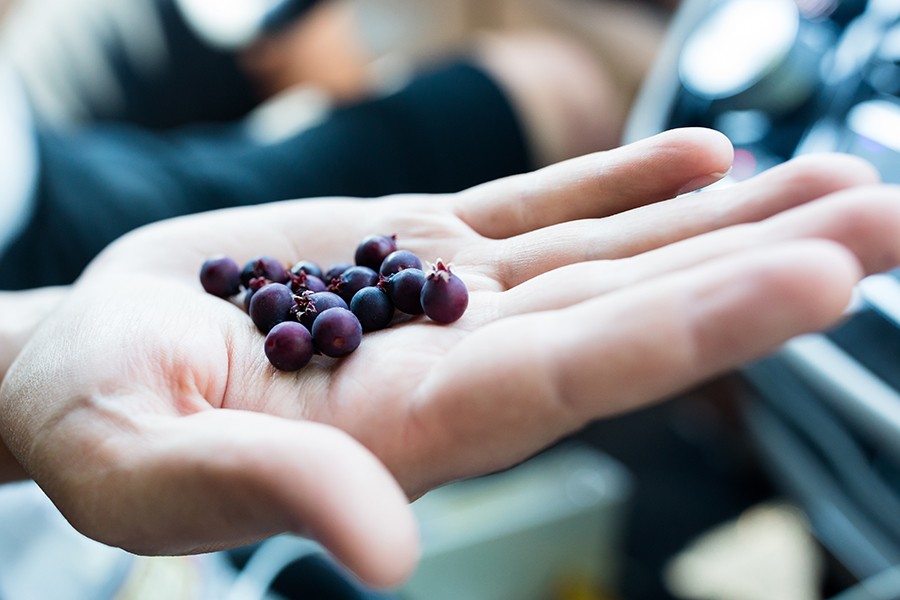 Tips for Glacier National Park
You'll want to download the park maps because there is no cell phone reception inside the national park.
Prepare yourself psychologically for driving the Going-To-The-Sun Road. It has sheet cliffs, a little narrow and I don't like to look (definitely the one not driving)!
Glacier National Park started doing reservations to visit the park. Luckily my mother in law knew this ahead of time and booked us reservations (they were $2 when we got them). They do this because the park can get over crowded and it helps with the crowds and lines for parking. People who don't have a reservation are allowed to enter the park before 6am or after 5pm. There was a long line of people getting ready to enter the park after 5pm since they didn't have or want a reservation.
Be prepared to wait for parking. Parking is very limited at Glacier National Park. Even if you arrive early for one of your hikes and get good parking, if you go to a different location for more hiking you'll have to wait for a parking spot. We built that time into our day so we were not over scheduled.
Make time for look outs. The views are superb while hiking but also worth it to just do the pullouts!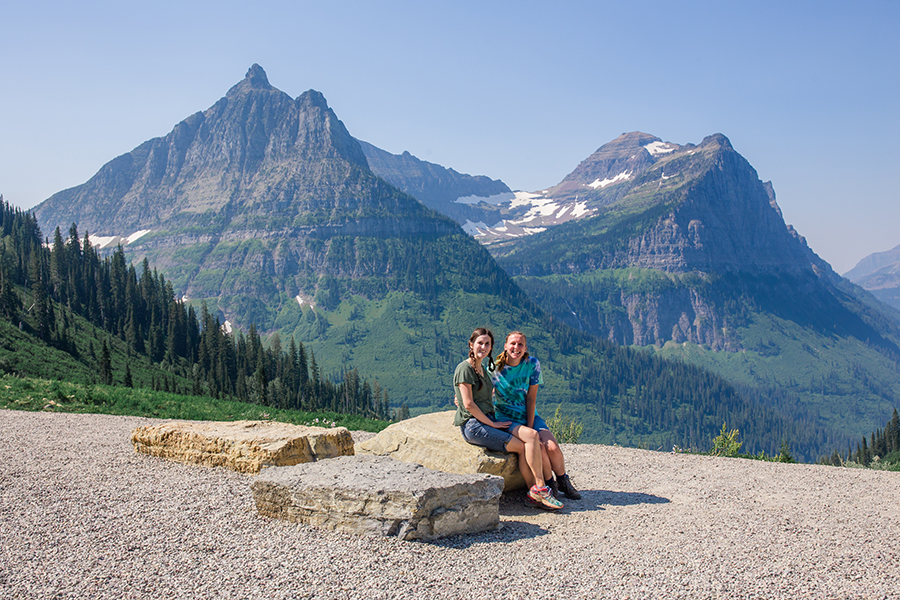 Next Time We Visit Glacier National Park
Matt didn't get to go with us to his grandmother's 80th birthday party so he said he wants to hike Avalanche Lake again. It's beautiful, mostly shaded and I need better photographs from their so I am happy to do that again. The hike I want to do next time is to see Grinnell Glacier (if it still exists it keeps shrinking every year). It's a longer hike so we will need to spend at least two days at Glacier National Park again to do both hikes. Maybe Grandma's 90th birthday party will be the perfect time for us to do that.